This page applies to KICKR v5 released in 2020 featuring Direct Connect,
KICKR AXIS Stabilization and improved thru axle compatibility.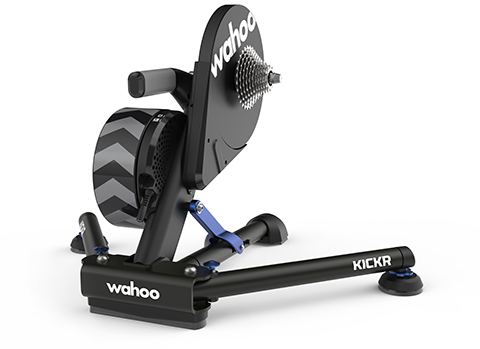 Product Information
APPLE IOS

The Wahoo KICKR is designed to work with the Wahoo Fitness app which supports devices running iOS 12 and newer.




ANDROID

The Wahoo KICKR is designed to work with the Wahoo Fitness app which supports most Bluetooth® compliant Android devices running Android version 6.0 or newer.

Note: Since Android devices vary widely, compatibility cannot be assured for all devices. Please download and install the Wahoo Fitness Android app from the Google Play Store before purchasing a Wahoo Fitness product to ensure compatibility.




WINDOWS / MAC

The Wahoo KICKR supports various Windows and Mac applications with Bluetooth and/or ANT+ capabilities.

Note: the Wahoo Fitness app (required for important firmware updates) is only available on iOS and Android mobile devices.




3RD PARTY APPLICATIONS

The Wahoo KICKR is compatible with many 3rd party iOS, Android, Windows and Mac apps. For a list of confirmed compatible 3rd party apps, see the chart at the end of this guide.

KICKRv5 DESIGN SPECIFICATIONS:

Part Number: WFBKTR120

KICKR Version: 5 (produced starting August 2020)

Dimensions (legs open): 20" x 28" x 17" (51 cm x 71 cm x 43 cm)

Dimensions (legs closed): 20" x 9" (51 cm x 23 cm x 43 cm)

Weight: 47 lbs (21.3 kg) Unboxed

Drivetrain:

Out of Box: 11 Speed Cassette

With Purchase and Installation of New Cassette: 8/9/10 Speed SRAM/Shimano

KICKR CLIMB Compatible: Yes

KICKR HEADWIND Compatible: Yes

Cadence: Yes

Front Wheel Block: Not needed

Resistance Type: Electromagnetic

Accuracy: + / - 1%

Connectivity: Bluetooth®, ANT+, ANT+ FEC

Wireless Software Updates: Yes

3rd Party Power Meter Support: Yes

Devices: iOS, Android, PC (Mac and Windows)

Max User Weight: 250 lbs (113 kg)

Power Requirements: 100-240V~1.5A 50-60 Hz

Flywheel Weight: 16 lbs (5.5kg)

Maximum Simulated Grade: 20%

Maximum Power Output: 2200 Watts

KICKR Smart Trainer
AC power adapter (LTE60E-S2-1)*
Quick release skewer (pre-installed)
Disc Brake Caliper Spacer (install on break to prevent pads sticking)
1.8mm axle spacer (for use with 10 speed cassettes)
Drive side adapter for 130mm and 135mm quick release (pre-installed)
Reversible hub spacer for 130mm and 135mm quick release (pre-installed)
Drive side adapter for 12x142mm and 12x148mm thru axle
Reversible hub spacer for 12x142mm and 12x148mm thru axle

*Caution: use of third party power adapters not supplied by Wahoo Fitness may cause permanent damage to your KICKR

The Wahoo KICKR requires minimal cleaning and maintenance if dirt or grime collects. If cleaning is needed, clear any debris and use a moist, soft cloth to wipe surfaces, avoiding dripping moisture into any part of the KICKR itself. Also avoid using strong cleaning agents as these may damage or reduce the lifespan of your KICKR.
Setup
The KICKR comes with legs folded to minimize transportation and storage size. Select a stable, level surface with sufficient room for trainer and bike. Retain packaging for future storage or transport.

Open the legs by pressing down on the blue leg-lock tabs and pivoting the legs outward until they snap into place. Failure to secure legs may result in bodily harm or damage.

Once opened, adjust the two leveling feet under the legs, turning until the trainer is level. Lock them into place by tightening the blue locknuts against the leg frame. Warning: always check trainer stability before riding and re-adjust leveling feet as needed.

Use the adjustment knob on the center leg to select your specific wheel size. If uncertain, your wheel size is indicated on the sidewall of your tire.

Use the included AC power adapter to connect the trainer to a standard 120v wall outlet. Caution: use of unofficial power adapters may cause permanent damage to your KICKR

Note: the reversible axle spacer pre-installed on KICKR Smart Trainers is set to accommodate 130mm spacing. Most road bikes use 130mm spacing, while cyclocross and mountain bikes with quick release skewers and disc brakes use 135mm spacing. Please reverse the spacer before mounting a bicycle with 135mm spacing or use the appropriate adapter for wider hub spacing and thru-axle bikes.

Remove your rear wheel, beginning by shifting into the smallest rear cog and smallest front chainring. Release your rear brake before opening the quick release lever (or removing the thru axle, if applicable), then lift the frame while lightly pushing down on the rear wheel to remove it.

Align the dropouts over the trainer's quick release skewer and gently extend the derailleur to the rear, pulling the chain taut. For thru axle bikes, center the bike's rear axle with the matching axle hole in the KICKR drivetrain.

Lower the frame over the trainer axle, ensuring the chain falls onto the smallest cog. The axle should slide easily into place. For thru axle bikes, reinsert the thru axle after mounting the chain on the KICKR, screwing it securely to the frame through the KICKR drivetrain

Rock the frame back and forth to ensure the dropouts are fully seated on the skewer. Firmly tighten the quick release - you should feel resistance when half closed; fully closing should leave an imprint on your hand.

Warning: the quick release skewer must be completely tightened before riding, requiring significant effort and leaving a defined imprint on the hand. Failure to properly tighten the quick release may result in damage or personal injury. If unsure of proper tension, consult your local bike shop or contact support for assistance. Do not ride the KICKR if the quick release skewer is not properly installed. Check skewer tightness and secure mounting before every ride to avoid injury or damage.
KICKR App Compatibility
Download the KICKR App Comparison Chart in PDF format