This article covers using the KICKR Direct Connect Adapter with a Windows 10 PC or laptop. Once the adapter is plugged into the KICKR (only supported on KICKR v5), simply plug an Ethernet cable into the adapter and the other end into your PC or router.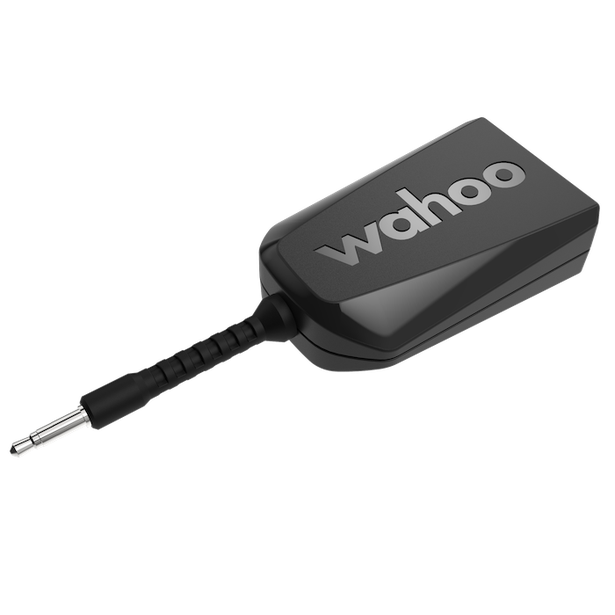 Requirements:
Direct Connect Adapter Firmware v. 1.0.0 or newer

KICKR v5 Firmware v. 4.1.1 or newer


Windows 10

version 19041 20H1 or newer

Bluetooth® enabled on your selected device
Connecting Directly to a PC/Laptop
Direct Connect and Windows Firewall:
If you're connecting the Direct Connect Adapter directly to your Windows PC, be sure to allow the connection when prompted (typically when opening your selected app). The current working connection type is automatically checked when the prompt appears, but can be edited, if needed, via Control Panel > Windows Defender Firewall > windowsbtle.exe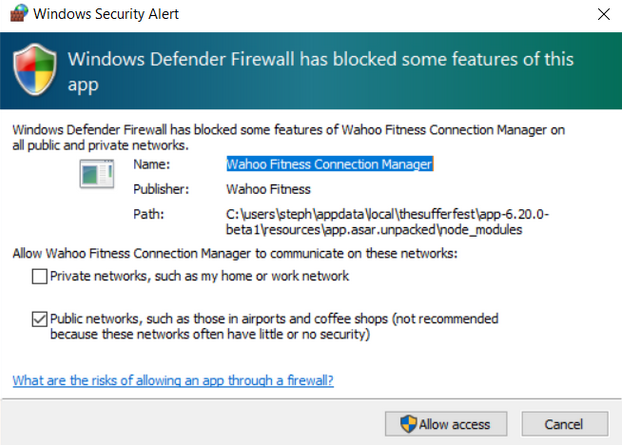 Once the connection is allowed, the trainer should appear when searching for trainers in your selected app similarly to how it would on a wireless connection.
Direct Connect and Mac:
If you're connecting your trainer to a Mac, the process is as easy as plug and play: simply connect the adapter to your trainer, then connect the Ethernet cable to your Mac and start your desired app to find your trainer listed.

Connecting through a Router or other Network
Simply plug your direct connect adapter into your KICKR and connect the Ethernet cable to your router and it will be found on your PC within your selected app, similarly to how it would be found wirelessly.
Note: The KICKR Direct Connect Adapter is typically assigned an IP address automatically via DHCP. However, it's important to note that the adapter should be on the same subnet as the PC being used (example: if your PC has the address 192.168.0.100, the Direct Connect Adapter should be set to 192.168.0.xxx in order to be recognized on the PC). Most users should not have an issue with this, but there may be cases when running range extenders (or multiple routers) where the range extender is functioning in router mode instead of access point mode on a different subnet.

3rd Party Firewalls:
3rd party firewalls may block traffic to the adapter including, Norton, McAfee, and Avast. Be sure to disable your 3rd party firewall or allow traffic on port 36866. Follow the instructions for your firewall to allow traffic on this port for the adapter to work properly.

Other Important Notes
Direct Connect and Bluetooth:
Direct Connect requires Bluetooth® to function and uses the Bluetooth® protocol over TCP/IP. Your PC/MAC must have Bluetooth® drivers and must be enabled in the OS and App. Most computers in the past 7 years should have Bluetooth® by default, but a Bluetooth® adapter may be required if not.

Direct Connect and Multiperipheral:
The Direct Connect Adapter is a 1:1 connection. It will only work in 1 app at a time. Always be sure to close any previously connected apps to ensure visibility with new apps. Note that the default Bluetooth® connection will remain available for other apps to use.