IMPORTANT: This page covers installation of the Campagnolo Freehub on KICKR v4 (2018), v5 (2020), v6 (2022) and KICKR CORE.


Please see instructions for KICKR v1 (2014) and v2 (2016) if installing on these trainers.

There is no Campagnolo freehub available for v3 (2017) KICKR trainers.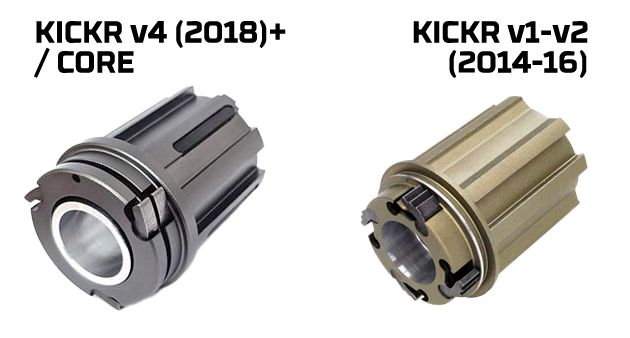 KICKR v4+ & CORE Campagnolo Freehub Compatibility

The KICKR v4+ & CORE Campagnolo Freehub is compatible with both Campagnolo, SRAM, and Shimano cassettes made in 2010 or newer
Campagnolo cassettes with 8 inner arms on any cog (except the last/outer/smallest cog) are NOT compatible (see image below)

Installation on KICKR v4+ & CORE
Required

Tools:
Included Components: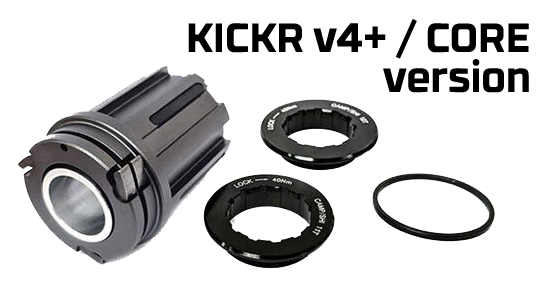 Notes:
The Campy freehub supports Campagnolo, Shimano, and SRAM cassettes, but included spacers are not needed with Campagnolo cassettes.
For your convenience, the included lockrings are geared for use with Shimano/SRAM lockring tools like the Park Tool FR-5.2.
Alternatively, you may use the lockring included with your cassette (both Shimano/SRAM and Campy compatible lockrings are supported).
Installation Steps:
Start by using the chain whip (or chain vice, as pictured) and lockring tool to loosen the lockring and remove the existing cassette
(skip this step if a cassette is not present, like in KICKR CORE initial setup).





Use the 17mm cone wrench to remove the existing original lock nut and freehub body. Hold the pulley with your free hand for stability.





Install the inner spacer. You can use either the spacer contained in the Campagnolo freehub (ships on the inside of the side with the pawls) or the original inner spacer. While cosmetically different (the Campy freehub's is shiny), they remain mechanically identical. Do not use both.



Check the center of the Campagnolo freehub for any overhang on the captive inner spacer. Adjust this spacer by hand to ensure it's flush all around, as shown below:



Install the new Campagnolo freehub over the inner spacer, rotating counterclockwise (in the direction of the pawls) until flush against the pulley.



Screw on the original lock nut and tighten with the 17mm cone wrench, again holding the pulley with your other hand for stability. Tighten until snug, being sure to avoid applying excessive force.





Install the included spacer as needed for your cassette, along with any other spacers which came included with the cassette.



Install your cassette on the freehub like shown in the video below (instructions start at 1:20):
You're now ready to mount your bike and get KICKN!