This page walks through installation of the SRAM XD/XDR Freehub on KICKR or KICKR CORE available now in the Wahoo online store.
Required Tools:
Included Components: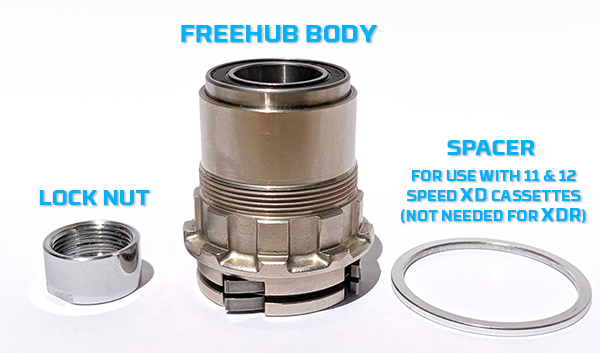 Installation Steps:
Start by using the chain whip (or chain vice as pictured) and lockring tool to loosen the lockring and remove the existing cassette
(skip this step if a cassette is not present, like in KICKR CORE initial setup).





Use the 17mm cone wrench to remove the existing original lock nut and freehub body. Hold the pulley with your free hand for stability.





Install the original freehub's inner spacer onto the pulley axle.



Install the new XD/XDR freehub over the original inner spacer, rotating counterclockwise (in the direction of the pawls) until flush against the pulley.





Screw on the new XD/XDR lock nut (which is smaller than the original) and tighten with the 17mm cone wrench, again holding the pulley with your other hand for stability. Tighten until snug, being sure to avoid applying excessive force.



For XD cassettes, install the included spacer along with any other spacers that came with the cassette
(skip this step if using an XDR cassette).



Install your XD/XDR cassette according to the manufacturer instructions below.




Reinstall the correct Quick Release or Thru Axle end caps and you're ready to mount your bike and get KICKN!