Feature Description
Use your phone or other device to find your RIVAL watch, or use your watch to find your phone whenever ELEMNT RIVAL is connected to the ELEMNT Companion App via Bluetooth®. When using the Find my Device feature, it will cue your lost device to vibrate and make a noise to spot if not easily visible.
Understanding the Feature
When RIVAL is connected to the ELEMNT Companion app using Bluetooth, use the RIVAL watch to find the connected phone, or use the phone to find your RIVAL by listening for the tone and vibration.
    

NOTE:

 The device will ring/vibrate even if in Do Not Disturb mode or silent.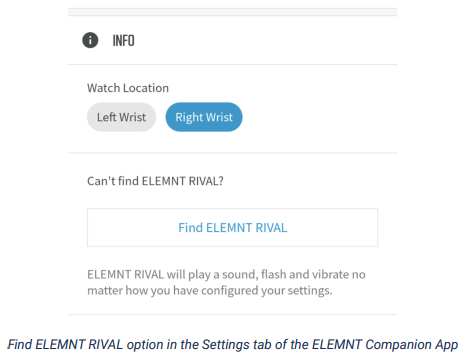 Find ELEMNT RIVAL
In the ELEMNT Companion app on your phone or other device, navigate to the Settings tab, then scroll down to tap FIND ELEMNT RIVAL, as shown in the image above. As long as your RIVAL is within range, it will beep and vibrate. Continue to locate your RIVAL by pressing the FIND ELEMNT RIVAL every few seconds, as needed.
Find My Phone or Other Connected Device
By default on ELEMNT RIVAL, hold the bottom left button to show the settings menu, then navigate to Find My Phone. If your phone or other device is connected to the ELEMNT Companion App and within range, the Find My Phone menu is displayed, as shown below.
The distance between the phone and the watch changes respective to Bluetooth signal strength. Pressing the Play Sound button to vibrate and ring your phone for a few seconds. Continue to press Play Sound as needed to locate the connected device.