Bicycle Known Incompatibility List
While most bikes that are compatible with KICKR or SNAP are also compatible with the KICKR CLIMB, any known exceptions are listed here. Please be aware that, since it is not possible to test every bike, this is not a comprehensive list. We recommend testing your bike with the KICKR CLIMB at your local dealer, where possible, prior to purchase. Ensure there is no interaction between the bike fork and the CLIMB when raising or lowering throughout its full range of motion. Wahoo is not responsible for any damage to bikes.


The following bicycles* are NOT compatible with KICKR CLIMB:
Any bike with a Cannondale Lefty fork
Argon18 E-119 Tri+ Disc
Boardman Road Team Carbon 2018
Canyon Aeroad 2014 with 100mm quick release dropouts
Cube Attain GTC 2017
Giant Propell Disc 2018
Merida Scultura 2019 with 100mm quick release dropouts
Trek 2.1 Series 2012
Trek Lexa 2014 with 100mm dropouts
Trek Madone 2006 - 2013 with 100mm quick release or thru axle dropouts
Trek Speed Concept 2012 - 2013
Some Serotta bikes
*Additional incompatible bikes may not be listed. This list will be amended as incompatible bikes are discovered. Always test bike compatibility at your local KICKR CLIMB dealer, where possible, before purchasing.
Trainer Compatibility List
The KICKR CLIMB is exclusively compatible with the Wahoo smart trainers listed below. Older versions and third-party trainers are not compatible.

When using the KICKR CLIMB, bikes rotate around the rear wheel hub. The rear dropout attachment points on 2017 and later KICKR and KICKR SNAP models were specifically designed to accommodate this rotation, while previous Wahoo trainers do not have the freedom of motion necessary to rotate as needed.
Using the KICKR CLIMB with older trainer models may cause permanent damage to your bike and/or trainer.
It is not possible to retrofit previous KICKR or KICKR SNAP models to make them KICKR CLIMB compatible.
KICKR v6 (2022)
KICKR v5 (2020)
KICKR v4 (2018)
KICKR CORE
KICKR v3 (2017)*
KICKR SNAP (2017)
*Please check your specific KICKR '17 serial number as outlined in the KICKR Identification by serial number section beneath the image.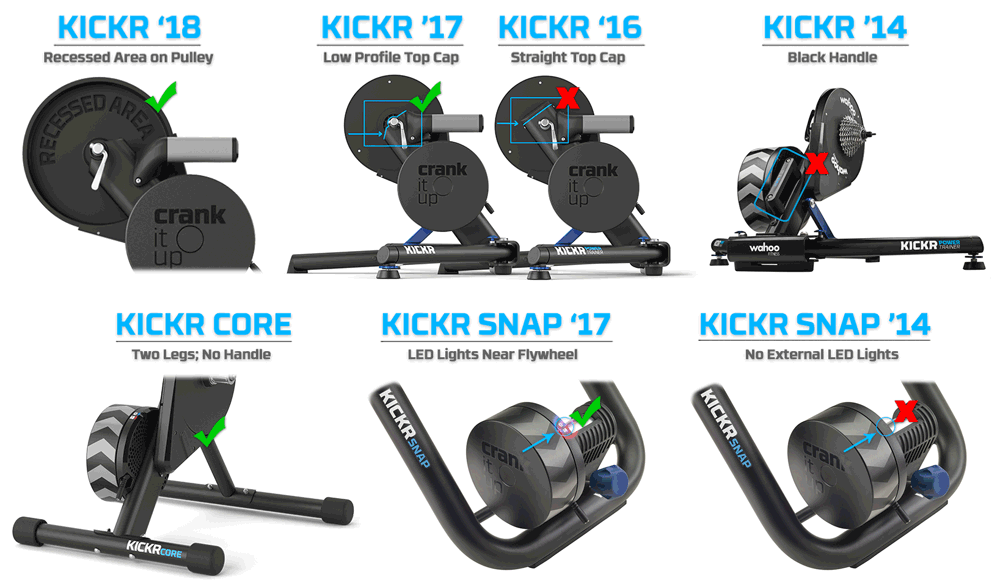 KICKR Identification by serial number
Find the KICKR serial number on the drive side of the KICKR flywheel as shown below: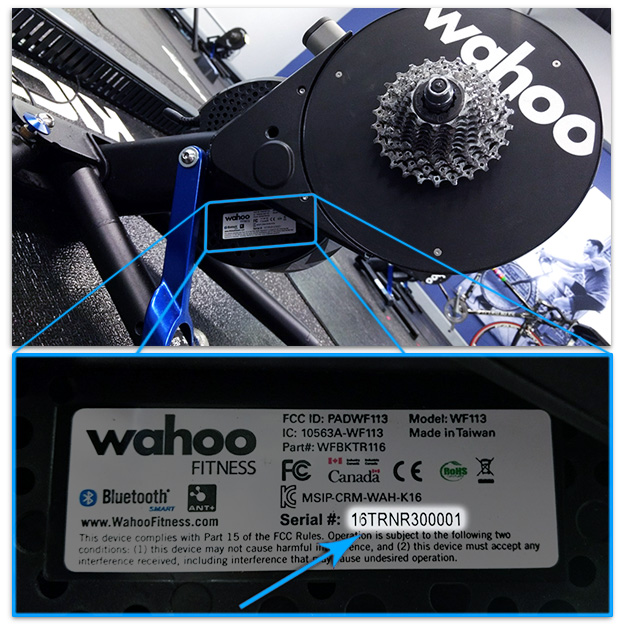 Serials of KICKR v3 (2017) trainers must meet the following requirements to be KICKR CLIMB compatible :
If the

The first two digits must start with 17 or greater (ex: 17TRNR220001 and 18TRNR000001 are both compatible)

If the first two digits are 17, the two digits immediately after 17TRNR must be 22 or greater (ex: 17TRNR220001 is CLIMB compatible, while 17TRNR219999 is not)
KICKR trainers with serial numbers that do not meet these requirements are not climb compatible.