The KICKR HEADWIND is a nice addition to any trainer setup, allowing the airflow from the fan to be controlled by speed or heart rate, or remotely, through the Wahoo Fitness app. Please follow the instructions below to ensure that your connections will allow full use of both the Headwind and the SYSTM app.
Initial Setup
Plug the headwind into a power source.
Download and install the Wahoo App from the Apple App Store or from the Android Google Play store. Follow the in-app setup guide to complete your profile and to pair sensors.
There are 2 setup options available: Direct Pairing to the KICKR HEADWIND (recommended) or Controlled with the Wahoo app. Using the second option will have limitations, as this will use the Bluetooth connections from your sensors and make them unavailable for use in the SYSTM app. Direct pairing uses ANT+ and allows the Bluetooth connections to remain available for pairing. This is the recommended setting for using the KICKR HEADWIND with a 3rd party app, such as SYSTM.
Direct Pairing- Controlling the HEADWIND with a heart rate monitor or speed sensor
Press the left airflow control button to enter Speed Mode. Press it again to enter Heart Rate Mode.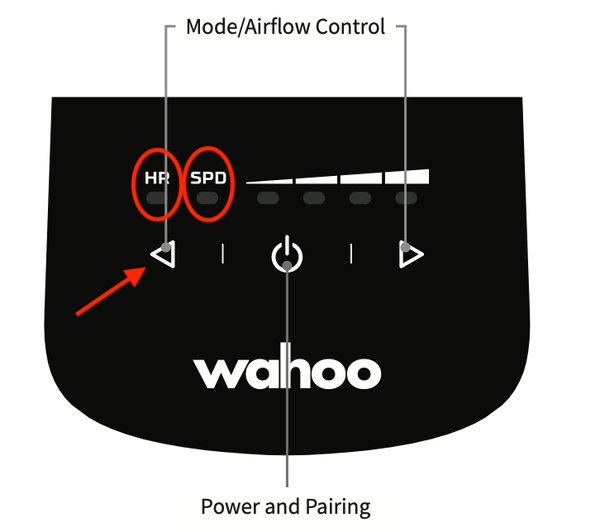 The SPD and HR LEDs blink when initially selected, indicating the unit is searching for sensors. To pair a compatible ANT+ enabled sensor (speed, heart rate or smart trainer), activate the sensor and hold it near the KICKR HEADWIND. When paired, the LED will become solid.
The KICKR HEADWIND will remember the last paired sensor even when unplugged. Ensure your KICKR headwind is in your desired mode prior to pairing a new sensor. To pair a new sensor, hold down the power button until the LED blinks.
Start your workout! The fan speed will be controlled by your sensor!
Controlling the HEADWIND with the Wahoo App
The KICKR HEADWIND can be controlled directly from the Wahoo app, but this mode uses Bluetooth connections and may interfere with system's ability to connect to and control your trainer and is not recommended.