The CABLE is capable of converting the Ant+ signals from your Ant+ only sensor to a Bluetooth signal that SYSTM can use. This will allow your ANT+ only trainers, power meters and sensors to connect to the app on iOS or Android. To connect ANT+ trainers, sensors and power meters to Windows or Mac, please use an ANT+ dongle.
The CABLE is capable of converting the ANT+ FE-C signal into a Bluetooth FTMS signal for trainer control. This will allow smart trainers to connect and use ERG mode.
We cannot guarantee that ANT+ to Bluetooth bridging devices will work effectively all of the time.
Detailed instructions for the proper configuration of the CABLE can be found on the NPE website:
https://npe-inc.zendesk.com/hc/en-us/articles/360026941632-CABLE-Setup-Guide
Once the CABLE is configured, please close the CABLE Utility app completely before launching SYSTM.
The CABLE will show up under Devices to Connect when you tap the Add Devices button: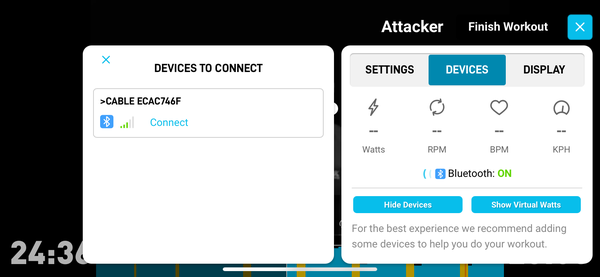 Once the CABLE is connected, choose the icons that match the sensors you've connected in the CABLE Util app. For more detailed connection instructions, please consider the type of trainer or sensor that you're trying to connect:
Connecting a Smart Controllable Trainer (Bluetooth)
Connecting a Smart Non-Controllable Trainer or Power Meter (Bluetooth)
Please note that even if your sensors are ANT+, you will be using the CABLE Bluetooth connection to connect to the app.