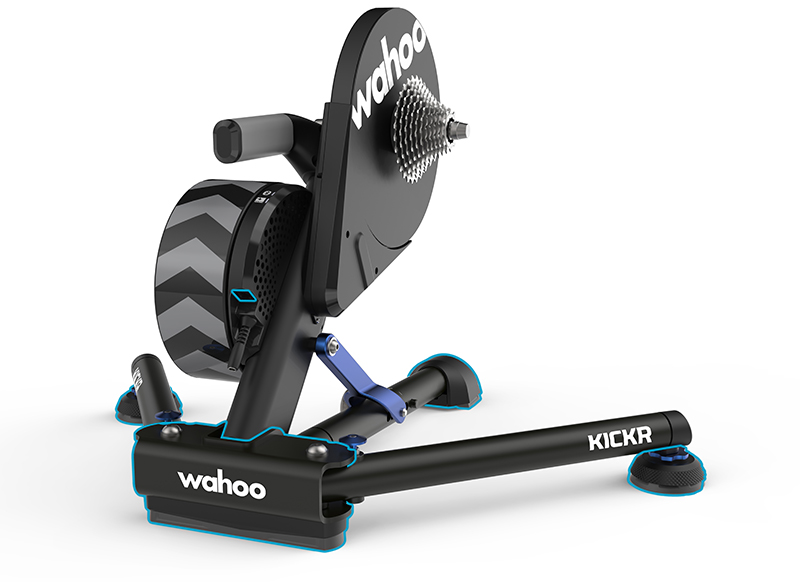 This page contains firmware update notes for the KICKR v5 which features new AXIS feet for improved compliance, pictured above.
For installation, please see instructions for iOS or Android.
KICKR v5 Firmware v4.2.5 - 13 October 2021

Added: LED Sleep Mode - KICKR LEDs now turn off after 15 minutes of inactivity. Any flywheel movement or an active Bluetooth connection will re-activate LEDs.
KICKR v5 Firmware v4.2.3 - 1 June 2021

Added: Bluetooth FTMS support
KICKR v5 Firmware v4.2.2 - 9 March 2021

Fixed: ANT+ FEC resistance mode
KICKR v5 Firmware v4.2.1 - 27 January 2021

Added: Direct Connect Support
Added: Bluetooth FTMS Support
KICKR v5 Firmware v4.1.2 - 13 January 2021

KICKR v5 Firmware v4.1.1 - 21 December 2020

Fixed: Tilt not working correctly for ANT FE-C connections
Fixed: Power reading too high at low flywheel speeds
KICKR v5 Firmware v4.0.5 - 11 August 2020

Automatic Calibration
1% Power Accuracy
Bluetooth and ANT+ Support
KICKR v5 Firmware v4.0.1 - 11 July 2020