Compatibility
ELEMNT Roam v1/v2, Bolt v2
Requirements
iOS/Android Companion App 1.62.0+
ELEMNT Roam v1/v2, Bolt v2 Firmware: 15469+
Date Available
10/31/22
What are Summit Segments?
Routed climb detection
When a route is loaded, the ELEMNT will detect significant climbs along the route and generate a list of upcoming climbs.

Summit Segments automatically detects climbs on a preloaded route, giving you in-depth information about upcoming, in-progress, and completed climbs. You'll see the number of climbs, when they occur, length, and average gradient.
New Climb Segments Page
This list of detected climbs will be provided on a new Climb page. Initially all upcoming climbs will be listed with distance to climb, length of climb, and average grade of climb. As a climb is begun, that climb will be listed as 'In Progress', and later 'Completed'. This page will exist as a subpage within the Elevation page flow and you can toggle between the two using the left button on the face of the computer.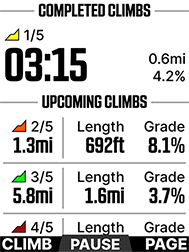 Climb Segment notifications
As you approach a climb, you will be shown notifications at the bottom of the screen alerting you to the distance to climb, length of climb, and average grade of climb. If not on the climb page, notifications will also be provided for starting the climb, approaching the end of the climb, and finishing the climb.
New Summit Live Segments Page
Once you've started a climb, a new in-climb page will appear, with data fields for:
time elapsed in the climb
vertical distance to go
distance to go
current grade
estimated total time to complete climb
When enabled, you will be able to toggle between this page, the Summit Segments page, and the Elevation page using the left button on the face of the computer.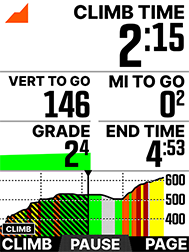 How is this feature enabled/controlled?
The Climb list pages, Segments Live page (and automatic page change), and page notifications are enabled by default, but these subfeatures can be toggled individually on the Settings page of the ELEMNT companion app at Settings > Summit Segments. Specific data fields on Elevation and Summit Segments pages can be modified in Settings > Pages > Summit Segments.
How are climbs defined?
Climbs are classified as small, medium, and large by their average grade and distance. Uphill sections with less than a 3% average grade OR less than 250 meters in length are not classified/defined as climbs.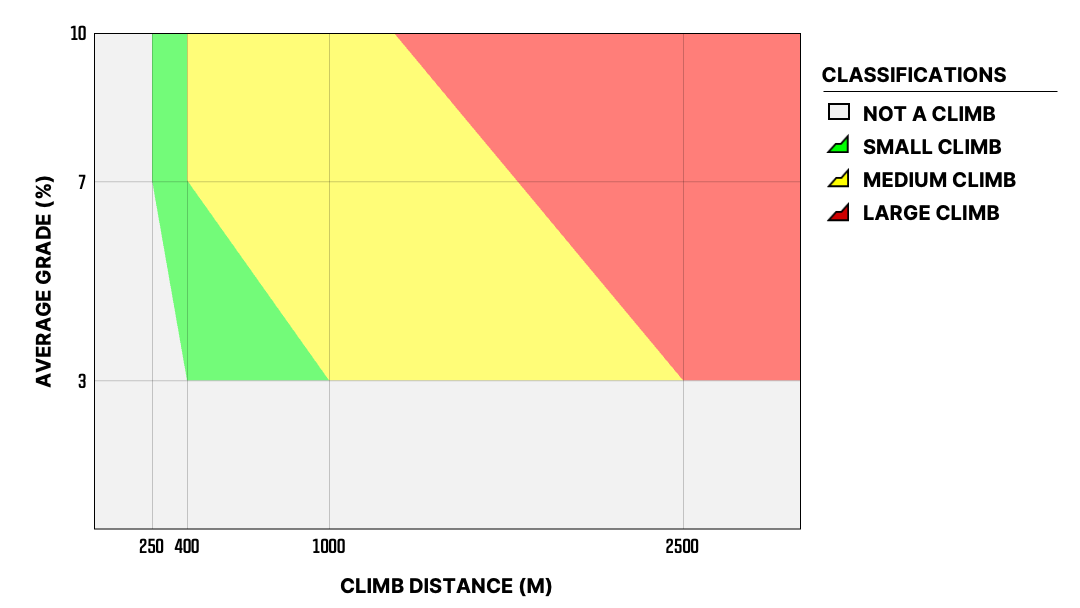 How do Summit Segments interact with Strava Live Segments?
When Strava Live Segments and automatic page changes have been enabled, and a Strava Live Segment that has been starred overlaps with a Summit Segment, the Strava Live Segment and associated pages will take precedence over any Summit Segment notifications or pages.
For a complete explanation of all Summit Features see ELEMNT Summit Climb Features.