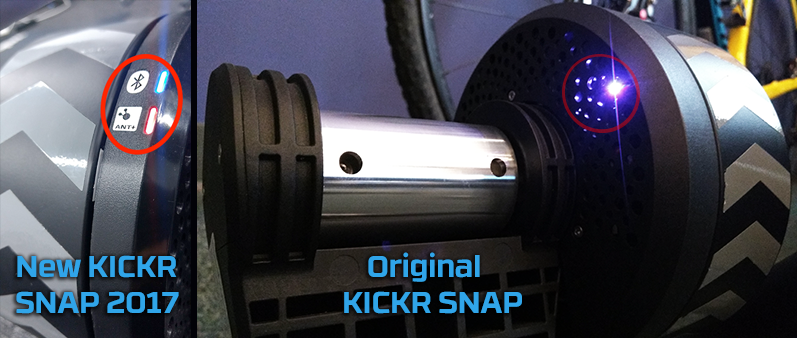 This page contains firmware update notes for the original KICKR SNAP without external LEDs, shown above.

Original SNAP v2.3.59 - 4 October 2017
Brake model: recalculating brake strength from raw spindown results to allow for updating the brake strength model.
Brake model: improved brake strength model
FE-C: fixed error causing FE-C to send raw instead of filtered power as instantaneous power
Fixed 3rd Party Power meter support
Original SNAP v2.2.51 - 23 January 2017
Fixed an issue surrounding power/resistance spikes

ANT+ FE-C communication fixes

Added option for acceleration power in ERG mode, this will report power from the SNAP similar to a crank-based power meter
Original SNAP v2.1.4 - 12 May 2016
The addition of ANT+ FE-C support allows the KICKR and SNAP to be controlled from any FE-C enabled device or application, such as a Garmin bike computer
Improvements to reported power and improvements

to simulation mode:
Improvements to the measured power during periods of acceleration also improve the feel of the trainer when using simulation mode (for example, when using Zwift).