This page contains current and historical release notes for firmware updates to the ELEMNT BOLT bike computer, distinguished from the new ELEMNT BOLT by its monochrome screen.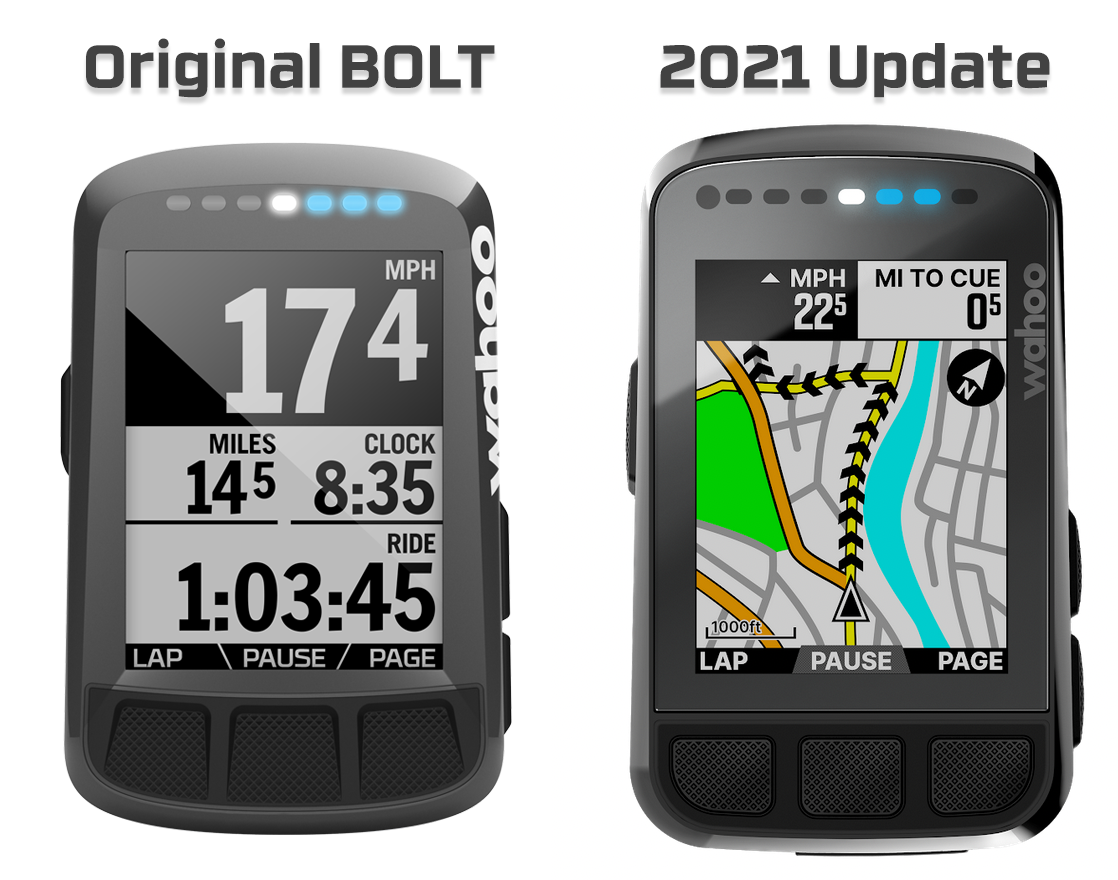 For firmware installation, see How Do I Update the ELEMNT BOLT?
For the new BOLT, see ELEMNT BOLT Firmware Updates
For ELEMNT, see ELEMNT Firmware Updates; for ROAM, see ELEMNT ROAM Firmware Updates
For app updates, see ELEMNT App Updates (iOS) or ELEMNT App Updates (Android)
BOLT WB15-13008 - 23 July, 2021
Added: Performance improvements and optimizations
BOLT WB15-12513 - 14 July, 2021

Added: Performance improvements and optimizations
BOLT WB15-12072 - 1 July, 2021
Added: Performance improvements and optimizations
BOLT WB15-11614 - 14 June, 2021
Added: Performance improvements and optimizations
BOLT WB15-11606 - 4 June, 2021
Added: Performance improvements and optimizations
BOLT WB15-11596 - 28 May, 2021
Added: KICKR and ANT+ FE-C controls default to passive mode
Added: Performance improvements and optimizations
BOLT WB15-11593 - 27 May, 2021
Added: Performance improvements and optimizations
BOLT WB15-11582 - 25 May, 2021
Added: Support for new ELEMNT BOLT
Fixed: Turn-by-turn and custom cues for manually imported TCX/GPX files
Fixed: Companion App connection stability
Fixed: Workouts syncing to Companion App
Fixed: Sensor stability improvements
Fixed: 'Take me to' routes showing in route list
Fixed: Translation issues with "Pair ELEMNT" in German
Fixed: Recipient not showing on text/phone calls
Fixed: Elevation graph
BOLT WB15-10654 - 22 April, 2021
Added: Support for new notification services (WhatsApp, WeChat, Line, Telegram, Signal)
BOLT WB15-10643 - 18 March, 2021
BOLT WB15-10624 - 1 March, 2021
Added: ELEMNT RIVAL support improvements
Fixed: Specialized LEV integration lights bug
Added: Translations
BOLT WB15-10132 - 11 January, 2021
Added: Additional Translations
Added: Stability improvements
BOLT WB15-9488 - 1 December, 2020
Added: Stability improvements
BOLT WB15-9484 - 17 November, 2020
Added: Stability improvements
BOLT WB15-8862 - 20 October, 2020
Fixed: Old workout appearing as a new workout
BOLT WB15-8859 - 12 October, 2020
Fixed: Electronic Shifting - 1x gears not displaying correctly
BOLT WB15-8858 - 21 September, 2020
Sensor connection fixes and enhancements
Stability improvements pairing TICKR over ANT+
BOLT WB15-8226 - 1 September, 2020
Added: Stability improvements
BOLT WB15-8223 - 25 August, 2020
Fixed: DI2 not displaying correctly on bike computers
BOLT WB15-8214 - 18 August, 2020
Added: Stability improvements
Added: Wheel circumference for LEV
BOLT WB15-7937 - 4 August, 2020
Added: Improved connection stability
BOLT WB15-7934 - 22 July, 2020
Bug fixes and improvements
BOLT WB15-7932 - 21 July, 2020
BOLT WB15-7930 - 14 July, 2020
BOLT WB15-7924 - 7 July, 2020
Fixed: Missing Pioneer power data
BOLT WB15-7921 - 30 June, 2020
Added: Stability Improvements
BOLT WB15-7914 - 26 June, 2020
Updated: French localization
Updated: Dutch translation error
Fixed: Rides uploaded as Cycling instead of Default
BOLT WB15-7706 - 8 June, 2020
BOLT WB15-7697 - 27 May, 2020
Added: Japanese translation fixes
Added: Calorie calculations from a power source
Updated: Calorie calculation from a HR source
BOLT WB15-7512 - 22 May, 2020
Fixed: Missing speed and cadence data
BOLT WB15-7505 - 12 May, 2020
Fixed: Speed and Cadence sensor data
BOLT WB15-7502 - 6 May, 2020
Fixed: Power pedal balance
Added: Stability fixes
Fixed: Strava workouts upload type
BOLT WB15-7082 - 10 March, 2020
Added: ANT+ LEV Compatibility for compatible E-Bikes (details here)
Fixed: Unit auto resetting
Fixed: SRM power meter speed/distance issues
BOLT WB15-6922 - 27 February, 2020
Fixed: Distance doubling with speed sensors
Fixed: KJ doubling
BOLT WB15-6919 - 20 February, 2020
Added: Instant torque now displays for ANT+ Power Meters that would otherwise display power only
Fixed: Di2 paging control
BOLT WB15-6662 - 23 January, 2020
Bug fixes
Updates for Specialized ANGi support
BOLT WB15-6659 - 17 January, 2020
Added: Specialized ANGi integration
Added: Stability improvements
Fixed: Strava Live Segments not showing consistently
Fixed: TSS/NP/IF displayed as "0" in ride summary
BOLT WB15-6492 - 18 December, 2019
Added: Improved support for Today's Plan
BOLT WB15-6268 - 20 November, 2019
Bug fixes and miscellaneous improvements
BOLT WB15-6264 - 12 November, 2019
Added: Relive sharing support
Fixed: Rerouting sounds and notifications while paused
Fixed: LEDs not matching correct HR zone
Fixed: Maps stuck in "Queued" state when downloading multiple maps
Fixed: Background workout recovery
BOLT WB15-6129 - 10 October, 2019
Improved Turn by Turn directions and routes with missing cues
Improved map download process
Fixed: Maps page sometimes incorrectly reporting download failure
BOLT WB15-6025 - 20 September, 2019
Improved off-route notifications
BOLT WB15-6023 - 19 September, 2019
BOLT WB15-6019 - 17 September, 2019
Added: Support for TrainerRoad outdoor planned workouts
Fixed: Strava Live segments not syncing
Fixed: Issue with scaling current interval during planned workouts
BOLT WB15-5525 - 3 September, 2019
Fixed: Max Speed data field displayed as AVG Speed when language is set to Chinese
BOLT WB15-5027 - 26 August, 2019
Added: Support for ANT+ radar sensors
Fixed: Crash on long rides
Fixed: Routes with Turn by Turn not displayed in ELEMNT app
Fixed: Map pack downloads getting stuck in queue
Fixed: Incorrect L/R Balance shown for some power meters
BOLT WB15-4037 - 15 July, 2019
Patch release for improved stability
BOLT WB15-4036 - 9 July, 2019
FIXED: Climbing profile incorrectly displaying on map page
FIXED: Incorrect power values being displayed from SRM power meters
FIXED: Target BPM data field showing as BPM % when using Training Peaks workouts
FIXED: Power from Rotor 2Inpower freezing when not pedaling
BOLT WB15-3535 - 26 June, 2019
FIXED: incorrect default settings
FIXED: maps not displayed in certain areas
FIXED: various stability improvements
BOLT WB15-3526 - 5 June, 2019
Added: Ability to customize Strava Live Segments page
FIXED: History page unavailable after workout
FIXED: Power meter and sensors data display errors
FIXED: Issues related to reversing routes
FIXED: Strava relative effort
BOLT WB15-2671 - 9 May, 2019
FIXED: Bug affecting Strava syncing when connected to WiFi
FIXED: Auto-calibration incorrectly appearing for select power meters when coasting
BOLT WB15-2666 - 1 May, 2019
FIXED: SRM CTF power issue creating negative power values
FIXED: Config backup not working after factory reset
FIXED: Debug map management no longer displays for standard users
FIXED: Various crash fixes
BOLT WB15-2659 - 15 April, 2019
All new look & feel!
Account login & profile sync between Wahoo apps
New route sync with MTB Project and Singletracks!
More workout sharing partners: Map My Tracks, Xert, and Final Surge
Total odometer in the companion app
Improved support for multiple ELEMNTs
Support for cadence targets from TrainingPeaks planned workouts
BOLT WB15-2171 - December 19, 2018
FIXED: Bug causing momentary UI freezes.
BOLT WB15-2169 - December 17, 2018
ADDED: Integration with Pioneer Pedaling Monitor Systems (instructions here)
Improved update recovery for low level updates
Update high level crash recovery version from 1337 to 2159
BOLT WB09-2169 - 5 December, 2018
Update for Strava's new Live Segments API: Segments with an average grade lower than -.25% are no longer supported by Strava due to safety concerns. Downhill and similarly steep descending segments will not be synced.

ADDED: map support for larger tiles (required for new map updates)

FIXED: text capitalization on sensor discovery screen

FIXED: bug preventing display of left/right percent balance data for Pioneer Power Meters when set to Dual ANT+ mode

FIXED: bug preventing display of w/kg data for Pioneer Power Meters

FIXED: bug preventing display of Pioneer Power Meter mode change and magnet calibration functionality

FIXED: bug when transferring planned workouts

FIXED: bug preventing ANT+ FE-C connectivity with some third party trainers
BOLT WB09-2159 - 7 November, 2018
FIXED: ELEMNT/BOLT automatically switching to Pioneer pedaling monitor mode
FIXED: Pioneer calibration exiting automatically after cancelling
ADDED: Support to set crank length for Favero Assioma pedals
FIXED: GPS drops after 3-4 hours
FIXED: Auto pause not working
FIXED: ANT+ sensors not reporting battery levels
FIXED: Riding Best Bike Split routes changing CLIMB gradient, but not KICKR resistance
FIXED: Incorrect target Watts in planned workouts
FIXED: Bug causing unexpected power off or reboot
FIXED: Duplicate uploads to sharing sites
UPDATED: Japanese translations
BOLT WB09-1985 - 14 August, 2018
FIXED: Issue with importing routes from specific third party apps
FIXED: Issue causing the '

Include Zeros in Avg Cadence' option failing to default to 'off' after factory reset
BOLT WB09-1983 - 30 July, 2018
FIXED: issue causing ELEMNT crashes related to low memory
FIXED: issue causing ELEMNT not to recover rides after battery dies
FIXED: issue with Komoot route sync
FIXED: issue with Fitif Power meter not pairing


FIXED: issue causing Strava Live Segment page to not populate

FIXED: various other

bug fixes
BOLT WB09-1980 - 18 July, 2018
FIXED: Shimano FC-R9100 power meter calibration failure
FIXED: Powertap P1's not registering crank length capability
FIXED: Grade data field displaying "- -" when climbing
FIXED: 3 second average power dropping to 0
FIXED: Power data field dropping to 0
Integration with SRAM TyreWiz
KICKR CLIMB support
BOLT WB09-1937 - 3 June, 2018

FIXED: Favero Assioma average power and cadence incorrect

FIXED: PowerTap hub power meter data low

FIXED: Issue where user has to resync starred segments before each ride

FIXED: Current grade data could fluctuate on a steady climb

FIXED: bug with Garmin Vector power meter calibration

FIXED: bug causing issues with GPS accuracy during long rides (6+ hours)

FIXED: bug causing sensor disconnects and failure to recover sensor connection after disconnect

Revise French translation for new lap
OTHER ANDROID COMPANION APP FIXES
FIXED: 'Take me to' feature unable to search for specific addresses
FIXED: Ability to enable automatic uploads not working
FIXED: MapBox crash when changing pages
BOLT WB09-1929 - 19 March, 2018
FIXED: Instantaneous power data field is inverted instead of 3 second avg power
FIXED: Pages reset on boot
FIXED: GPS dropping after 3-4 hours
FIXED: Time on BoltApp showing an hour behind for users in Turkey
FIXED: Center LED remaining lit during left turns
FIXED: Planned workout graph disappearing after changing pages
FIXED: 'Watts/KG - lap', 'Watts/KG - workout ' showing as N/A
BOLT WB09-1836 - 11 Jan 2018
UPDATES
Added support for uploading workouts to 2Peak
Added turn-by-turn notifications for Ride With GPS routes exported with course-points in TCX and GPX format
Added new data field for TrainingPeaks Variability Index
Bug fixes and other improvements
OTHER ELEMNT FIXES
Force 4iiii power meters to connect using ANT+
Improve layout for turn-by-turn popup notifications
BOLT WB09-1815 - 27 Nov 2017

UPDATES
Update BOLT to the latest maps via the map settings screen on the companion app
Configure auto-upload on a 'per site' basis
Choose to exclude zeros from the average power calculation
Upload to the web4trainer share site
Bug fixes and other improvements
OTHER ELEMNT FIXES
Improve accuracy of Auto lap Time triggers
Fix issue where temperature data lost after a workout end
Only write the sensors that are used to the FIT file
Fix issue where planned interval repeating intervals are lumped together
Fix issue where Strava goal appears for the wrong segment
Data Field: when workout time >10hrs, don't show seconds
Fix planned workout 10sec notifications or very short intervals
Fix wheel circumference issue for Elite Direto
Fix issues when performing 2nd spindown in same power cycle
Fix incorrect duration on some planned workouts
Planned Workout interval graph not showing unless workout is paused
Planned Workouts - Graph doesn't scale as difficulty percentage is changed
Planned Workouts - Laps created incorrectly after pause
Planned Workouts - Interval notifications should appear on KICKR page during a Planned Workout
Add support for web4trainer share site
OTHER ANDROID COMPANION FIXES
Now detects timezone/local changes while open
Now able to rename custom page
Shows 'This weeks' results
Fix workout details lap arrows not shift graph
Fix a GPX route import problem
Fix issue where 2nd email sent after phone restart
Show temperature in ride results
Show better error for MINI offline workouts not able to share to Komoot (need locations)
MINI climb results not displaying correctly
Improve messaging around need for Location Services
Fix missing notification for Android 8 Oreo
Workout results for lap data shows the same value for average power, max power and normalized power
Resetting HR zones is not resulting in the new HR zone data being sent to ELEMNT
OTHER IOS COMPANION FIXES
Updates for iPhone X
Add support for Web4Trainer share site
Add the option to exclude zeros from power average calculation
Fix Dropbox exporting issue
Fix heart rate & power zone bar graph pop ups not dismissing
Fix bug causing Live Track routes not to appear on Live Track site when the route is selected on ELEMNT/BOLT
Fix a crash that sometimes occurred on workout screen after sync finished
Improve elevation calibration for online MINI workouts
Fix a bug that caused mixed units and weight to be reset

ELEMNT BOLT WB09-1705 - 2 Oct 2017

Share Sites
ELEMNT BOLT can now share to the following sites on iOS and Android:
Komoot - https://www.komoot.com/
Cycling Analytics - https://www.cyclinganalytics.com
PowerTraxx - https://www.powertraxx.de
Additionally, Android users can now share with:
Google Fit - https://www.google.com/fit
Dropbox - https://www.dropbox.com
Other

ELEMNT BOLT WB09-1628 - 23 Aug 2017

PLANNED WORKOUTS
ELEMNT BOLT can now perform planned/structured workouts. Choose one of the built-in workouts or sync your upcoming training schedule from TrainingPeaks or Today's Plan. After selecting a workout from the PLANNED WORKOUTS section under the SETTINGS screen, ELEMNT will guide you through the workout highlighting your target efforts via the fields, LEDs, sounds, popup notifications and the target effort graph. At any time in the workout, you can pause your plan and also skip forward and back through the planned intervals.
ANT+ FE-C SUPPORT
ELEMNT BOLT can now connect to FE-C trainers via ANT+

ELEMNT BOLT WB09-1507 - 18 July 2017

ELEMNT BOLT LIVE TRACKING UPDATE. MORE DATA & PRIVACY CONTROLS
The Live Track site now shows more data including your breadcrumb trail, route, live ride data and charts.
You can continue to share your permanent link, though we have introduced a new temporary link that will expire at the end of the day. Once expired, the link will no longer be able to track you.
The link that is auto-posted to Facebook, Twitter and email is a temporary link that will expire at the end of the day.
You can manually expire all your links (both permanent and temporary) as well as opt-out of being shown as a 'nearby rider' on other people's map page.
Any previous links you have shared with your friends and family have now expired. You will need to share new links with them.
OTHER
Fixed an issue where starting certain routes on KICKR would cause a 100% resistance command sent to KICKR
Fix issue where the ELEMNT would auto-switch to the lap page if the lap page was disabled in the companion app
Fix an issue where ELEMNT would forget your gear's teeth-count configuration
Improved translations
Improve Strava Segment notifications so long Segment names properly resize to maintain readability

ELEMNT BOLT WB09-1422 - 6 June 2017

Strava Live Suffer Score data field (Strava Premium)
Improved the accuracy of Strava Live Segments on the ahead/behind (Strava Premium)
Cadence: Setting, from the companion app, to include or exclude zero's in the average calculations
Improved route syncing
Improved the quality of the data after a mid-workout shutdown and restart
Fixed an issue where a bad pressure sample could corrupt your elevation and grade data
Fixed an issue where a bad power sample could corrupt your power data
Fixed some issues transferring workouts to the companion app
Many other bug fixes

ELEMNT BOLT WB09-1344 - 3 April 2017

Fix incorrect elevation data after mid workout shutdown and recovery
Improve some button labels to fit better for various languages
Base the LEDs and power zone calculations on the 3-second average power, not instantaneous power
Update some compliance information
Improved translations
Reset to OUTDOOR mode on startup. Lots of reports of people accidentally riding in INDOOR mode and not having GPS
Fix issue where call/SMS/email notifications were hidden behind the workout paused notification

ELEMNT BOLT WB09-1337 - 14 March 2017