Requirements:
Compatibility: All ELEMNT GPS Bike Computers (ROAM, BOLT, original ELEMNT, and original BOLT)
iOS Companion App: 1.53.0+
Android Companion App: 1.53.0.33+
ELEMNT Device FW: 14187+
What is A Custom Alert:
A Custom Alert is a configured notification that can display on your ELEMNT at set interval types. Custom alerts are triggered on the ELEMNT by three interval types:
Time

Distance

Calories burned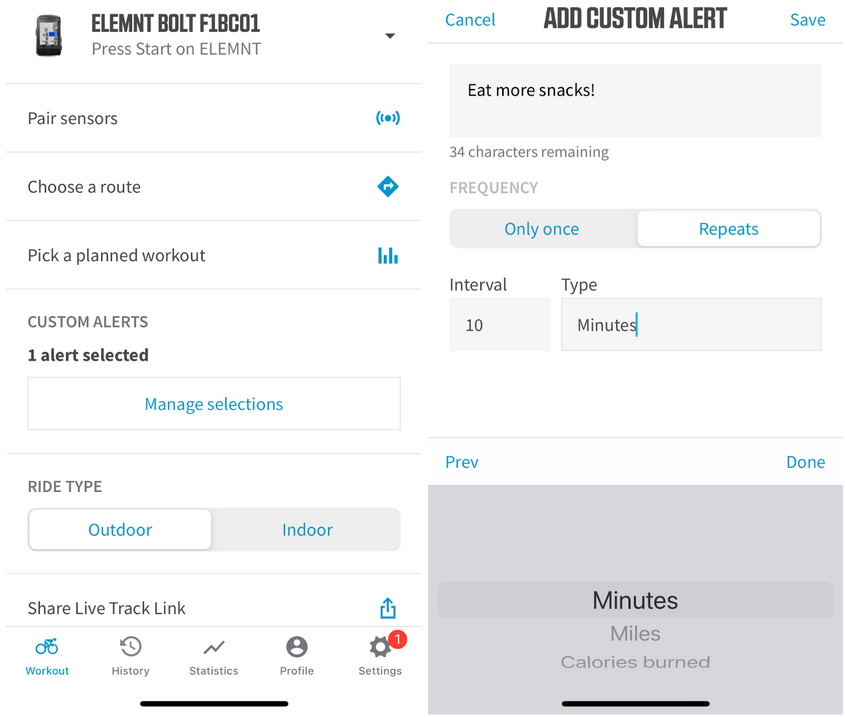 Do Custom Alerts repeat?
Custom Alerts are configurable to repeat or for one-time use. Custom Alerts which are set to repeat display a notification at the defined interval throughout the duration of a workout.
Example: a one-time use alert.
Do I have to manually dismiss my Custom Alert?
Yes. Simply click 'Dismiss' on the ELEMNT to hide a Custom Alert. This ensures you never miss an important message.
Where do I configure Custom Alerts?
Custom Alerts are configured from the ELEMNT companion app via the workout tab. You must be actively paired to an ELEMNT bike computer for the feature to appear.
If I have multiple ELEMNT Computers will this config be shared with all of them?
Yes. At this time the Custom Alerts List will be persistent across any ELEMNT Computer you have paired to the Companion App.
Can I delete my Custom Alerts?
Yes. Custom Alerts can be deleted at any time in the companion app.
How many Custom Alerts can I have?
There is currently no limitation on the number of Custom Alerts a user can configure or display during a workout.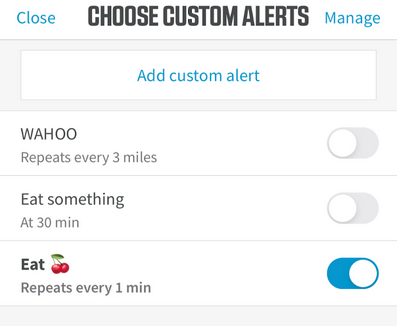 Multiple Custom Alerts
Can I share Custom Alerts across Devices?
Yes. Configured alerts can be displayed on multiple ELEMNT bike computers.
Can I get Custom Alerts on my Rival?
Sorry, not yet!
Can I mute Custom Alerts?
Yes. Custom Alerts can be muted by:
1. Muting or disabling them in the ELEMNT menu.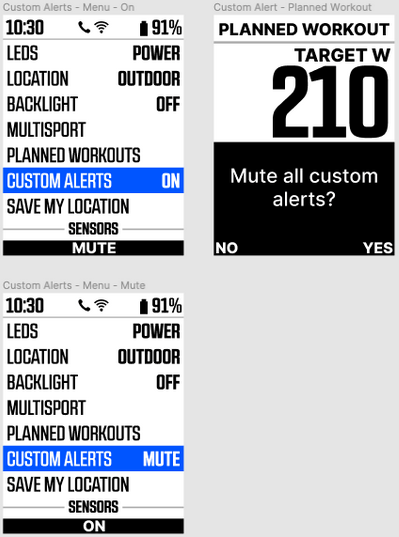 2. Tapping 'Dismiss' or 'Mute' when you receive a Custom Alert.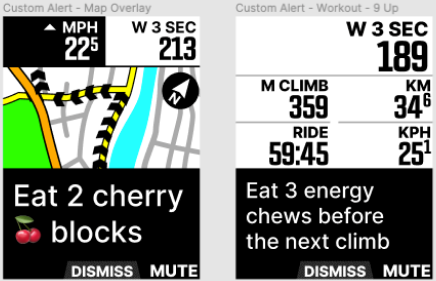 3. Removing the alert selection from the workout tab in the ELEMNT app.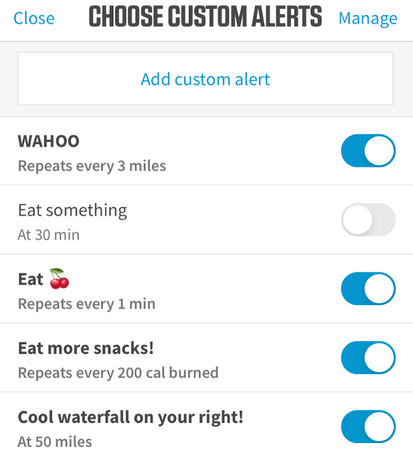 Example: "Eat something" is disabled.