ANT+ dongles can be quite finicky at times. Here are some troubleshooting tips to try to get yours working properly.
Re-insert your ANT+ dongle
There are times when the ANT+ USB and the SYSTM app just don't want to play together nicely. Our first step in troubleshooting this process is to simply unplug and then plug the dongle back in. Do this a few times or chose a different USB port on your computer. If you're using a USB extension cable or adapter, try plugging the dongle into the computer directly, or using a different adapter.
ANT+ Dongle is being Hijacked
There are a few programs that also use ANT+ dongles. These programs will hold onto that ANT+ dongle even when they are minimized. Any program that requires an ANT+ dongle must be closed out all of the way. ANT+ dongles are very monogamous and will not share with other programs or Apps. Here are the programs you need to be aware of that commonly hold onto the ANT+ Dongle aggressively.
Zwift
TrainerRoad
Garmin Express
ANY Training App you can run on your desktop (Elite Mapping Software for Elite Trainers)
On Occasion the old FitBit Application for desktops.
ANT+ Driver is outdated*
*note this applies only to Windows installations. MacOS support ANT+ natively.
If you've gotten to this point in troubleshooting and your ANT+ dongle still isn't being recognized in Windows, you can try updating the driver. This usually happens automatically, but on occasion, the driver is out of date.
Go to Device Manager: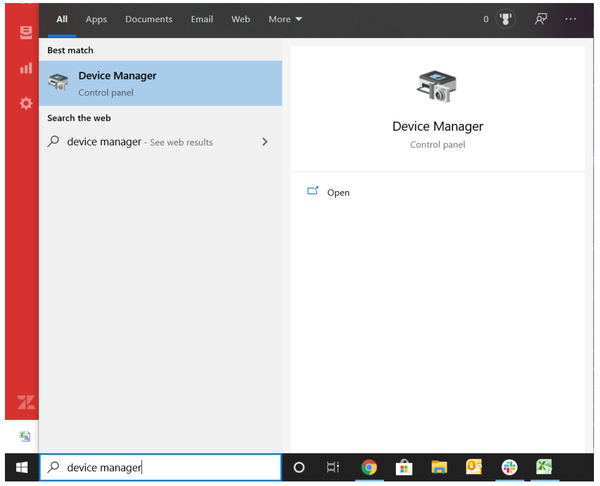 Find the USB device, right-click on it, then update the driver.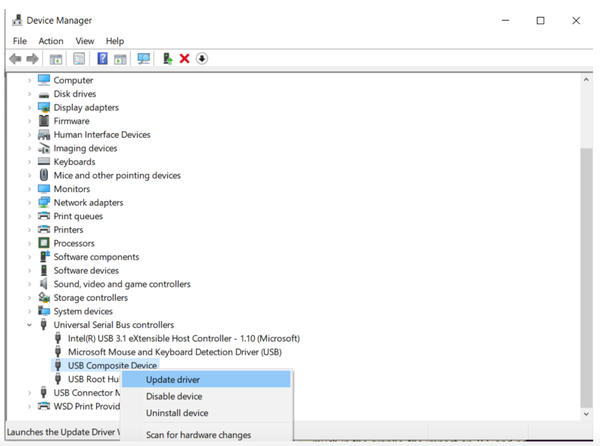 What if the driver is up to date?
You can uninstall the current driver and then reinstall it. This might also resolve the issue.
Find the ANT+ USB stick in the Device Manager, right-click on it and select Uninstall Device.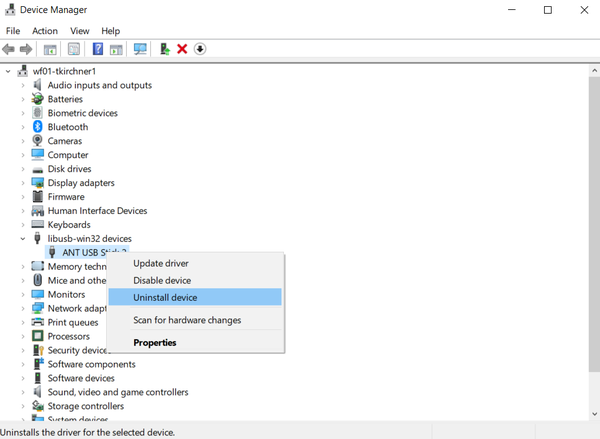 Be sure to check "Delete the driver software for this device". Then click Uninstall.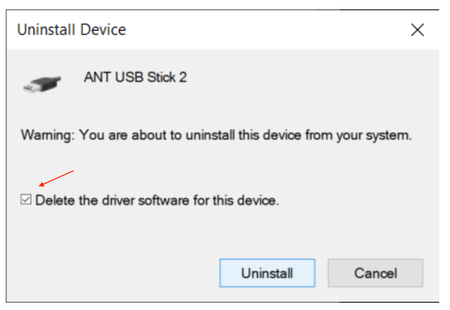 After uninstalling, remove the ANT+ dongle. Wait a few seconds before reinserting it. This should reinstall the driver automatically.
Faulty ANT+ Dongle
The easiest way to check and see if your ANT+ dongle is working is to pull up another program that uses an ANT+ dongle. If it is working there, then we have a different issue. You can also go into your device settings page on your computer to see if the computer is recognizing your ANT+ dongle.
If another App or the computer cannot find your ANT+ USB Dongle, you will need to purchase another ANT+ Dongle. (Be sure to test without a USB extension cable, or with a different adapter if you are using one in your setup).
No Driver Found*
*note this applies only to Windows installations. MacOS support ANT+ natively.
There are some Windows computers that will give this error when inserting a new ANT+ dongle. See this article for manual driver installation instructions. If the above troubleshooting has not resolved the issue, downloading and installing fresh drivers may resolve the issue also. Please read the article linked for detailed instructions and a driver download.