Once you've created your user account for SYSTM on iOS, you won't be able to start a workout until you've started a subscription. Any subscription started from the SYSTM app on iOS will be managed through Apple. If you would prefer direct billing with Wahoo, please create your account at systm.wahoofitness.com by following these instructions: Creating a SYSTM subscription (web, Mac, Windows).
The instructions in this article will be for an Apple Subscription and will be managed by Apple.
You can reach the subscription page by selecting Subscribe now on any workout, or by selecting the three dots (more) on the navigation menu, and then selecting Settings -> Billing.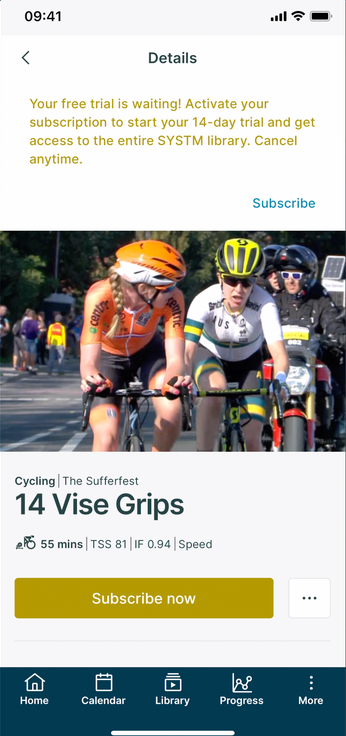 The Billing page will contain details of the subscriptions that are available and the price in your local currency. Scroll down for more details. If a trial is not available (has already been used), charges will occur immediately. Subscriptions are set to auto-renew automatically through Apple subscriptions.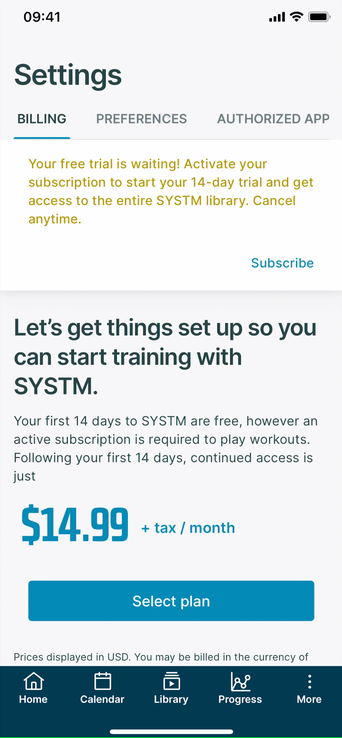 Tapping the Select Plan button will bring up subscription confirmation details. The billing email should be your AppleID, which may be different from your Wahoo SYSTM login email. Tap the Subscribe button to start the subscription.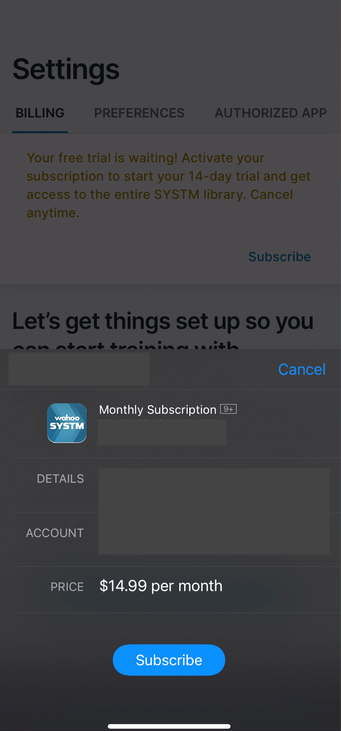 To learn more about free trials, see The 14 Day Free Trial
To learn how to cancel your Apple subscription, see Canceling your Wahoo X Subscription - Apple Store