Workouts in the app can be streamed or downloaded. Downloading videos is recommended. If you're having trouble downloading or playing downloaded videos, please try the following:
Downloading issues:
Log out and restart your device. For instructions on how to log out of the app, please see this help article.
Ensure that you have enough storage space left on your device. The general rule is that one hour of video consumes 1 GB of space. Extra free space is needed for the video and app to function properly. The app will require an extra 10GB of free space to function properly.
Reboot your router, check your firewall settings to ensure that the App is not being blocked. You may have to create a special exception if this occurs.
Proxy servers and VPN are not supported by the app for downloading. Try streaming instead.
Download speeds may be affected by the number of devices you have connected to your home network. Try disconnecting devices to improve download speeds.
Try the reliable download setting if your downloads start but don't finish.
Check the status of our Digital Ocean Server (this is the server for our downloaded videos) https://status.wahoofitness.com/ If there is no server outage, the service is likely being blocked by your computer, network, firewall, router or ISP.
Downloaded Video Playback Issues
1. Buffering or Video errors: Try rebooting your device or deleting and downloading the video again.
2. If you're using the app on Windows or Mac, turning off GPU acceleration may resolve your issue.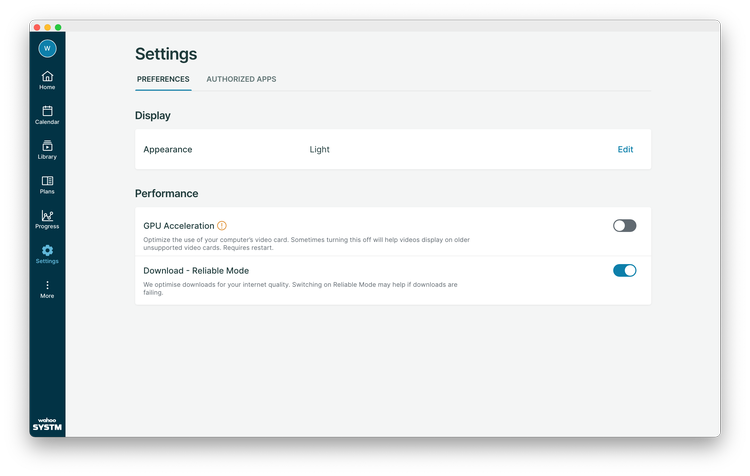 3. Turn off all background apps on your device. Reboot your device.