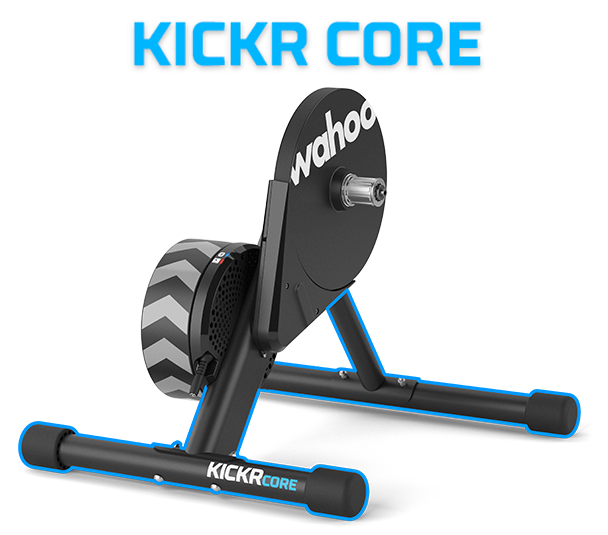 This page contains firmware update notes for the KICKR CORE, which features a two-leg design with no handle, as pictured above.
For installation, please see instructions for iOS or Android.
KICKR CORE Firmware v1.1.3 - 13 October 2021

Added: LED Sleep Mode - KICKR LEDs now turn off after 15 minutes of inactivity. Any flywheel movement or an active Bluetooth connection will re-activate LEDs.
KICKR CORE Firmware v1.1.1 - 1 June 2021

Added: Bluetooth FTMS support
KICKR CORE Firmware v1.0.13 - 11 June 2020

Fixed: Stability Improvements
Added: Cadence over ANT+ Power Profile
KICKR CORE Firmware v1.0.12 - 16 September 2019
Fixed a bug affecting speed and power after certain spindowns
KICKR CORE Firmware v1.0.11 - 4 September 2019
Added: Integrated cadence – simplifies setup by providing accurate cadence directly from your trainer, eliminating the need for external sensors.
Added: Powerful connectivity - new support for up to 3 Bluetooth® connections to ensure a trouble-free start to your workout.
KICKR CORE Firmware v1.0.10 - 10 June 2019

KICKR CORE Firmware v1.0.8 - 23 April 2019

Improved power accuracy for wider range of spindown times

KICKR CORE Firmware v1.0.6 - 31 October 2018

Added: support for sending KICKR CLIMB status (current tilt and locked/unlocked mode) to third party apps via ANT+

Improved power accuracy over 25 MPH and 1000 watts
KICKR CORE Firmware v1.0.4 - 26 September 2018
Improved power accuracy during high wattage sprints
KICKR CORE Firmware v1.0.2 - 27 June 2018