Wahoo trainers including the KICKR, KICKR CORE, and KICKR SNAP can be used in four different resistance modes: Level, Resistance, ERG and Sim, as described below. KICKR BIKE can be used in each of these modes except Resistance.

Requirements:
Accessing the Resistance Modes on your Wahoo Smart Trainer:
From the main screen of the Wahoo Fitness App, select 'Workout' Tab in the bottom left corner.
On the Workout screen, select Indoor Cycling (iOS) or KICKR (Android) and ensure the trainer shows as paired under 'Linked Sensors' below.
Select Start Workout (iOS) or Enter Workout (Android).
Swipe left 3 times (iOS) or 4 times (Android) to reach the trainer control page.
Select your preferred resistance mode from the tabs across the top of the screen.
Differences Between Modes:
Each mode provides a different kind of resistance, as described here.
Level

Choose your

power

curve! Just like riding on a fluid or wind trainer, the faster you go, the harder it gets. The level you select determines the progression of your power curve.

When your trainer is plugged in, but not connected to a device that can control it, the default mode will be Level Mode: Level 2.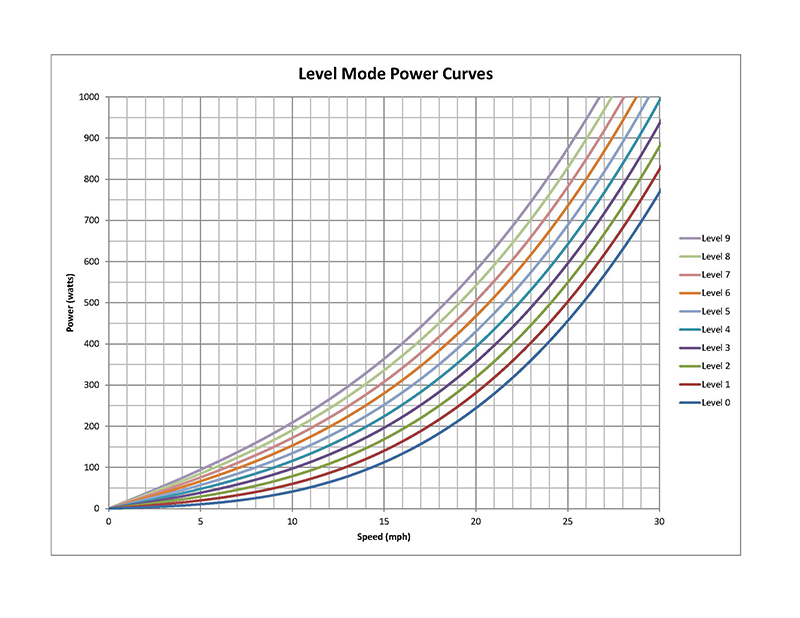 Resistance

Just like adjusting the brake in spin class. For those who need complete control, this allows you to set the resistance of the brake manually anywhere from 0 to 100%. Regardless of speed, resistance will remain the same until otherwise changed.
(Note: Resistance mode is not available on KICKR BIKE)

ERG*

Our personal favorite - intervals have never been easier (or harder)! Set your desired

power

and watch as the

KICKR

adjusts to keep you honest during training. If your cadence drops, the

KICKR

will increase the resistance to maintain a constant

power

output, regardless of speed. It's the ultimate way to train - with

power

! Click here for more info.


Sim

With Sim (AKA Route)

mode

, enter your weight, bike type, riding position, headwind, and grade to have the

KICKR

accurately

model

the

power

curve as if riding outdoors. When using this mode, ensure your weight and tire size is properly set in the KICKR's sensor settings for accurate

power

calculations.
*When riding in ERG mode you may notice that speed doesn't seem to relate to your power output or gearing. This happens because ERG mode is designed to maintain the target power at any wheel speed or cadence. The speed recorded will fluctuate based on the gear and cadence you have selected, and may not be accurate. You may need to try different gears to find which is closest to your desired or expected speed.
Additional ERG Settings:
ERG Mode Speed Simulation: This setting simulates speed based on power input for greater accuracy of speed data. Enabling is a personal preference, will not impact overall trainer functionality, and not required (most who train with power are not concerned about speed data).
ERG Mode Power Smoothing: this setting enables smoothing reported power to eliminate small inconsistencies in pedal strokes, making power graphs appear less erratic. Enabling is a personal preference, will not impact overall trainer functionality, and not required.