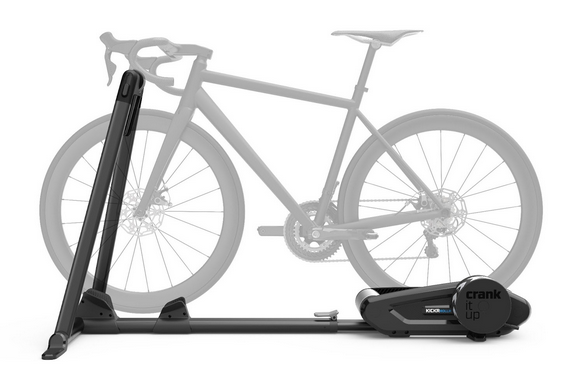 Product Information
KICKR ROLLR may be used with or without being connected to a power source, allowing easy mobile training for race warmups and other portable uses.

Supercharge your warmup by connecting to a power source for increased resistance, a power meter (like Wahoo POWRLINK ZERO Pedals) for dynamic training in SIM and ERG modes, and your favorite app (like Wahoo SYSTM) for the complete training experience to keep you at peak performance!



| | | | |
| --- | --- | --- | --- |
| | Basic Static Resistance | Manual Resistance Changes | Dynamic Resistance |
| Unpowered | ✓ | X | X |
| Standard Power Outlet | ✓ | ✓ | X |
| Power Meter | ✓ | ✓ | ✓ |

Definitions:

Unpowered: KICKR ROLLR remains disconnected from power and apps
Standard Power Outlet: KICKR ROLLR is plugged into a normal power outlet with the provided cord

Power Meter: a connected bike attachment which measures your power output (inter-connectivity requires plugging in KICKR ROLLR)

Basic Static Resistance: the default inertial resistance of the unpowered flywheel
Manual Resistance Changes: adjust power manually through a slider in the Wahoo App
Dynamic Resistance: automatic power changes as used in ERG and SIM modes

Road Bikes:

KICKR ROLLR is designed to be easy to use with the majority of both road bikes and road tires, without the need for trainer-specific tires. KICKR ROLLR's adjustable wheelbase accommodates bike wheelbases from 950mm - 1100mm.

While KICKR ROLLR is also fully compatible with trainer tires, these are not required - there is no need to use a trainer tire as ROLLR was designed to easily transfer your bike between the road and a home training studio.

Can I Use my Mountain/Cross Bike with ROLLR? What Tire Should I use?

Yes, you can use a mountain or cross bike with ROLLR, but you may want to use a smoother tire as bumpy/knobby tires increase wear and make for a turbulent ride. The smoother the tire, the better.

Additionally, be aware that most modern mountain bikes have a longer wheelbase than is compatible with KICKR ROLLR (950mm - 1100mm).

Disclaimer: Because of the wide variety of bicycle makes and models, it is not possible for Wahoo to guarantee KICKR ROLLR compatibility with all bicycles matching these parameters. To fully ensure compatibility, we recommend visiting a local Wahoo retailer to test your bicycle's fit before purchasing. Please take note of the "Known Incompatible Bikes" listed below. While Wahoo has conducted tests on KICKR safety and compatibility with certain bikes, the end user is ultimately responsible for ensuring that their bike frame is compatible with the KICKR trainers such that damage to the bike frame does not result from using KICKR trainers.

Wahoo Fitness strongly discourages altering trainers to fit bikes deviating from the following specifications including (but not limited to) grinding-down components, adding washers, or improperly reversing spacers as these may void your warranty and increase inherent risk. Wahoo Fitness is not liable for any damage or injury related to improper installation, modification, or misuse of hardware.




Known Incompatible Bikes

The following bikes are NOT COMPATIBLE with KICKR ROLLR:

E-bikes and/or recumbent bikes

APPLE IOS

KICKR ROLLR is designed to work with the Wahoo Fitness app which supports devices running iOS 12 and newer.




ANDROID

KICKR ROLLR is designed to work with the Wahoo Fitness app which supports most Bluetooth® compliant Android devices running Android version 6.0 or newer.

Note: Since Android devices vary widely, compatibility cannot be assured for all devices. Please download and install the Wahoo Fitness Android app from the Google Play Store before purchasing a Wahoo Fitness product to ensure compatibility.




WINDOWS / MAC

KICKR ROLLR supports various Windows and Mac applications with Bluetooth and/or ANT+ capabilities.

Note: the Wahoo Fitness app (required for important firmware updates) is only available on iOS and Android mobile devices.




3RD PARTY APPLICATIONS

KICKR ROLLR is compatible with many 3rd party iOS, Android, Windows and Mac apps. For a list of confirmed compatible 3rd party apps, see the chart at the end of this guide.

Part Number: WFBKTR9B

Dimensions: 31.25" x 34" x 57.5-65" (79.5 x 86.5 x 146-165 cm)

Weight: 50 lbs (22.6 kg) Unboxed

KICKR CLIMB Compatible: No
KICKR HEADWIND Compatible: Yes

Resistance Type: Electromagnetic

3rd Party Power Meter Support: Yes

Accuracy: Determined by external power meter

Wireless Software Updates: Yes, via Wahoo Fitness App

3rd Party Power Meter Support: Powermeter Connect

Connectivity: Bluetooth® FTMS, ANT+ FE-C, Direct Connect

Devices: iOS, Android, PC (Mac and Windows)

Max User Weight: 250 lb

Power Requirements: 100-240V~1.5A 50-60 Hz

Flywheel Weight: 10.5 lb

Maximum Power Output: 1500W

KICKR ROLLR Rear Assembly

KICKR ROLLR Front Assembly

AC power adapter (LTE60E-S2-1)*

Owner's Manual (not pictured)

Screwdriver (not pictured)

*Caution: use of third party power adapters not supplied by Wahoo Fitness may cause permanent damage to your KICKR

KICKR ROLLR requires minimal cleaning and maintenance if dirt or grime collects. If cleaning is needed, clear any debris and use a moist, soft cloth to wipe surfaces, avoiding dripping moisture into any part of KICKR ROLLR itself. Also avoid using strong cleaning agents other than isopropyl alcohol as these may damage or reduce product lifespan.
Setup
Download the full KICKR ROLLR Quick Start Guide as a PDF for instructions in English and other languages, or click below for the video set up guide!


KICKR ROLLR comes folded and in two parts to minimize transportation and storage size. Select a stable, level surface with sufficient room for ROLLR and bike and unfold the front assembly to its upright state, as shown below. Retain packaging for future storage or transport.

Warning: always check stability before riding and always ride on a level surface.

Remove the screws on the front assembly underneath the gray wheelbase adjustment lever.


Connect front and rear assemblies:

a.

Lift the gray wheelbase adjustment lever.




b. Connect the rear assembly by inserting it into the front assembly.




c. Ensure the rear assembly is inserted past the screw holes beneath the lever, then close the lever.




Reinsert the included screws removed in Step 2 and tighten with a Phillips screwdriver to secure.


Install your bike by placing the front wheel in the front wheel block and the rear wheel on the rollers.



Adjust the wheelbase:

a. Lift adjustment lever

b. Slide rear body until the rear tire contacts both rollers evenly


c. Close lever back into place
Adjust the gray Tire Gripper by rotating the adjustment knob to your desired tightness - a looser fit allows more lateral play while riding, while a tighter fit provides greater stability.


(Optional) For maximum resistance or resistance adjustments, use the included AC power adapter* to connect KICKR ROLLR to a standard wall outlet.

*Caution: use of unofficial power adapters may cause permanent damage to KICKR ROLLR

(Optional) Connect to the Wahoo Fitness App for iOS or Android to update KICKR ROLLR, get on your bike and start rolling! For the ultimate training experience, use the Wahoo SYSTM App to schedule and ride customized workouts to optimize your fitness routine!



As mentioned above, once ROLLR is set up, plug it into a standard power outlet via the included power cord and connect an ANT+ power meter to unlock its full potential! Without a power meter, KICKR ROLLR will only broadcast speed and will function exclusively in level mode. However, once a power meter is connected, ROLLR will broadcast all standard power data including speed, cadence, and other metrics and will also unlock other modes like SIM and ERG.

Once ROLLR connects to a power source, it will automatically begin looking for the nearest ANT+ power meter. Once found, the connection is made automatically with no further input required. If connected to the Wahoo Fitness App for iOS or Android, the paired power meter will be displayed in KICKR ROLLR settings.

Multiple Power Meters?

Use the Wahoo Fitness App for iOS or Android to select a power meter from the ROLLR settings page
KICKR App Compatibility
Download the KICKR App Comparison Chart in PDF format