Clicking on the Avatar at the top of the Sidebar in the desktop app will access the User Profile page and information. The Avatar is a circular image with either your first initial or your rider type icon if you've completed the Full Frontal Fitness Assessment. Select My Profile to continue.


The ATHLETE PROFILE tab contains 4DP settings, cTHR settings and Rider Type (if you've completed the Full Frontal Fitness Assessment).
Your 4DP settings can be edited from this screen, if necessary. We recommend completing one of the fitness assessments to get the most accurate settings for your workouts. Learn about 4DP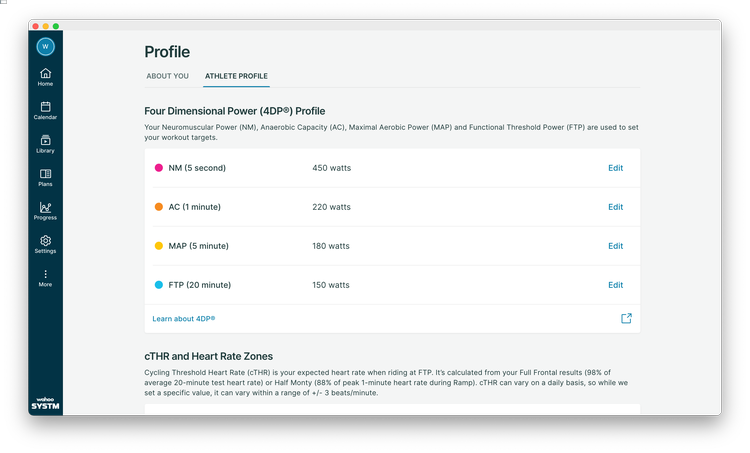 Your cTHR and heart rate zones appear below your 4DP settings. These are also set automatically based on your fitness assessment results. We recommend wearing a compatible heart rate monitor for this feature. Heart rate zones displayed in the app will match the zones that appear here. For more details see Learn about cTHR.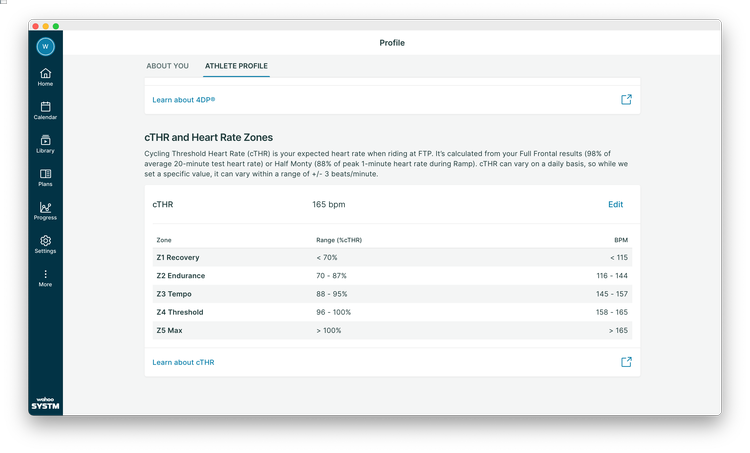 If you've completed the Full Frontal assessment, you'll have a complete 4DP Profile, Rider Type, strength and weakness profile in this section. You'll be able to learn more about your strengths, weaknesses and who you are as a cyclist. If you have not completed Full Frontal, this section will not appear in your profile. See Your Full Frontal Results to learn more about this section.