Adding a training plan to your calendar can easily be done by selecting either the More icon in the App Navigation Bar, followed by Plans on the next screen or by selecting the + button on the calendar page in the app.
Step 1- Choose a Discipline
Choose Cycling, Multisport or Cross-Training. Note that these Cross-Training plans are standalone plans. You will be able to choose integrated cross-training with your cycling or multisport plan.
If you haven't completed the Full Frontal (4DP) fitness assessment, your page will have this warning at the top. The plan that will be applied to your calendar will not be tailored to your rider type, but the workouts will be adjusted to the 4DP values that you have in the app.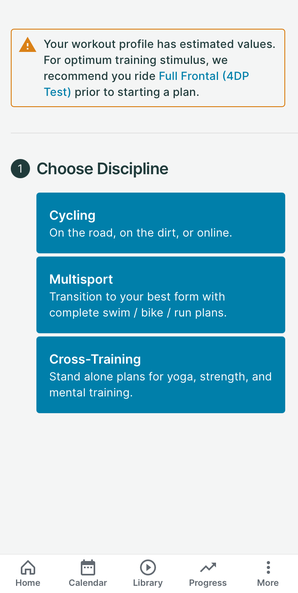 If you've completed Full Frontal, you will see the following, displaying your rider type:

Step 2- Choose your options
As you go through the training plan selector, you will see several options in each step to personalize the training plan to meet your needs. If you want to go back to change a step, simply click on the green checkmark on the step you'd like to return to.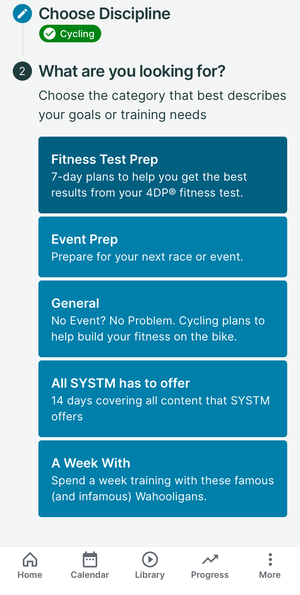 Choosing Strength Training
The new Focused Strength Training has 5 different levels. To determine which level you should start with, use the selection tool found here: Focused Strength Training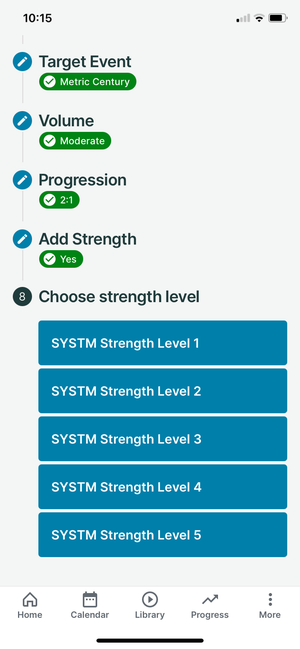 Applying the Plan
At the end of the Training Plan selector options, you'll have the option to choose your start or end date. Select Preview your Plan once you've chosen your dates.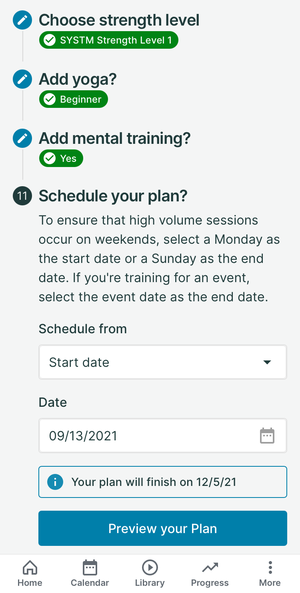 Your plan details and all the options you've chosen will appear on this page. If you'd like to make some changes, select the Plans Icon in the navigation bar to return to the options selector, choose the step you'd like to change and make a different selection.
Once you are satisfied with your plan, tap the + Add to Calendar button. The plan will appear on your calendar. (There may be some caching delays, the plan should appear within a few seconds).