This article will provide instructions for connecting a Classic trainer to the app. This trainer does not offer any data on its own and cannot be controlled by the app. This setup requires a compatible Speed Sensor. If you are unsure what kind of trainer you have, or how to connect, please refer to our Connect your Trainer (Compatibility Tool) to find out how to connect your trainer. If you have a power meter, please refer to this setup instead.
In order for the app to report data and control the trainer, trainers and sensors will need to be connected to the app from the device connections screen in the workout player. In this connection setup, we will connect a speed sensor and configure the app to report Virtual Watts. Virtual Watts are a calculated power estimate based on a known power curve for your trainer. For more information, please refer to this article.
Select your workout from the Library and press the Start Workout button.

This will launch the Device Connections screen. If your screen does not open automatically, please tap the gear icon in the top right corner of your page. Please ensure that your screen says that Bluetooth is ON.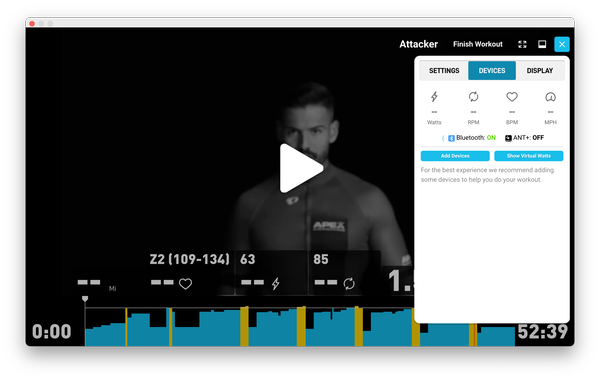 Activate your sensors then click the Add Devices button on your screen. Cadence sensors will require you to spin the cranks, heart rate monitors will require you to be wearing them. Moistening the leads on the heart rate monitor strap can help if your sensor doesn't show up in the device list.
Selecting your sensor
With your sensors activated, you should be able to see your speed sensor in the list of available devices to add. Click on connect to add the device to the right-hand panel of the Device Connections screen.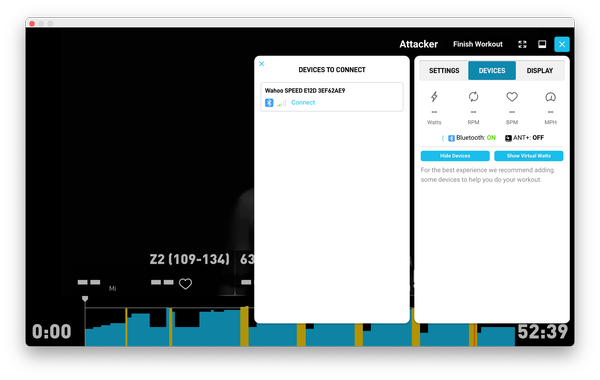 Once the device is properly connected, it should appear with a white box around it in the right-hand panel.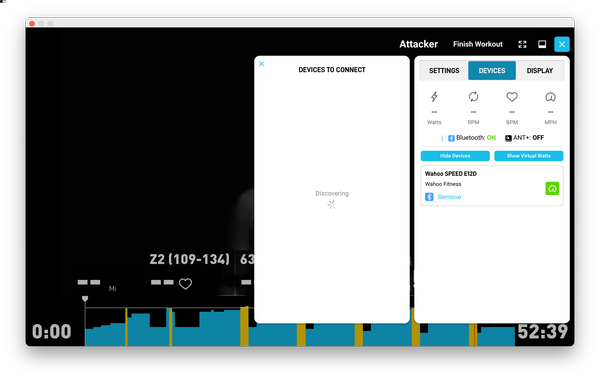 Once the speed sensor is connected, we can configure the app for Virtual Watts. Select the Show Virtual Watts button to open this configuration panel. Select your trainer manufacturer and model from the dropdown lists. Be sure to select the proper settings if your trainer has manual settings. You will want the in-app settings to match the trainer's manual settings. Select your wheel size. Then click the ADD button at the bottom.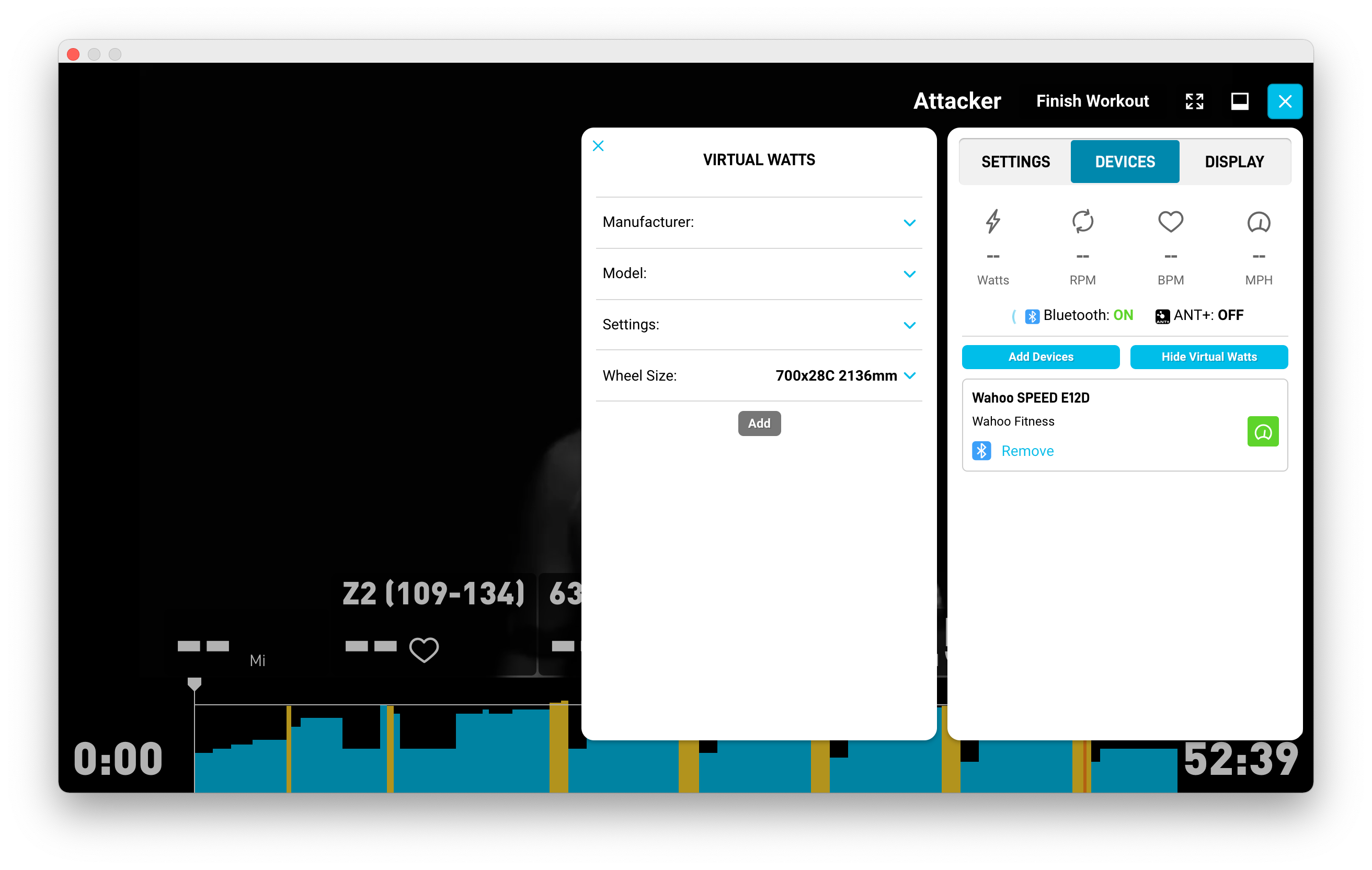 Your trainer should now appear in the right-hand panel of the Device Connections screen, and it should have a

Power Icon next to it. If the icon is not green, please click on it.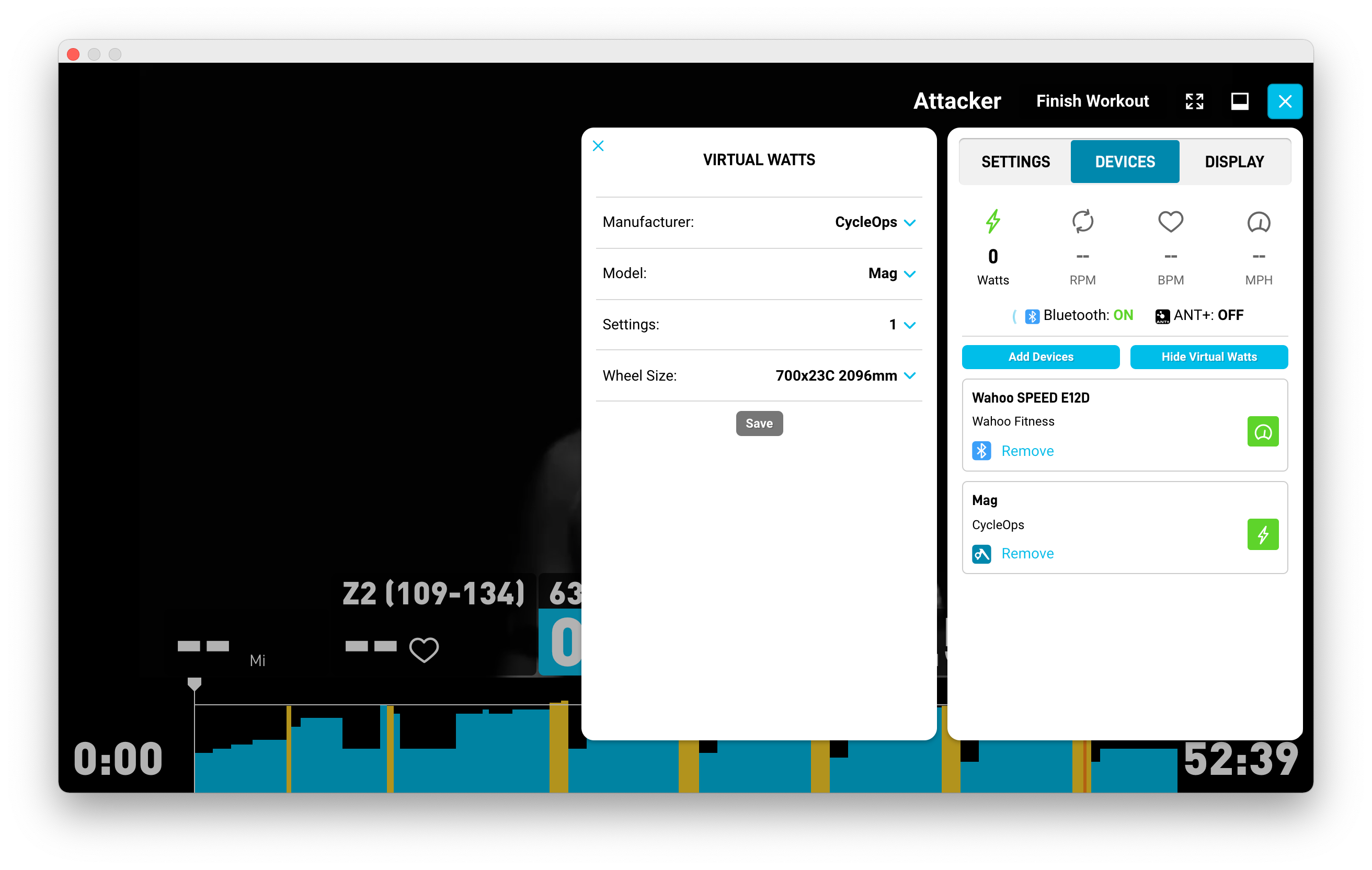 Your app is now configured to report Virtual Watts in the app. You can follow the instructions here to connect the rest of your sensors.