ELEMNT, BOLT, and ROAM can now pair with rear view radar systems (like the Garmin Varia) following the same pairing procedure as any other ANT+ sensor (instructions here).
Note: Other ANT+ enabled tail lights (without radar functions) like those from Bontrager are not supported.

Requirements
Radar Settings On ELEMNT
Once your ANT+ radar is paired, additional settings (including mute) may be accessed by opening the settings menu with the left side button and selecting MORE while the sensor is highlighted on the list. Toggle between the options below by pressing the right button with ALERT MODE highlighted.
ON

: Radar Enabled

OFF

: Radar Disabled

MUTE

: Visuals remain as set in ELEMNT App Settings (on-screen/left LEDs and top LEDs), but no beeps or sounds are played.
Radar Settings in the ELEMNT App
To edit radar settings in the ELEMNT app, go to the Settings page > Set up sensors > Bike Radar > Alert Settings.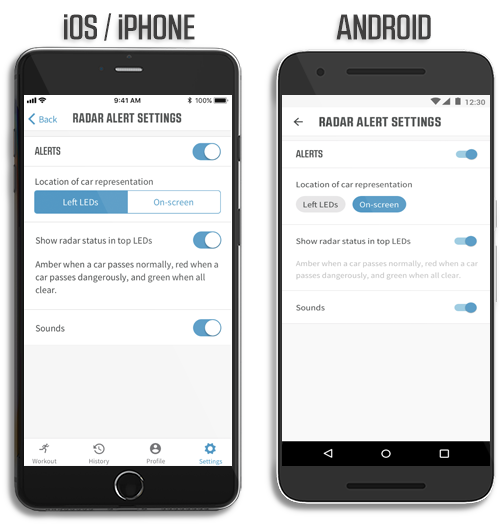 Setting

Options

Function

Alerts On/Off

On/Off

Toggles radar features on or off

Location of car representation

On-screen channel or Left LEDs

On the ELEMNT/ROAM, changes between showing cars on the main screen or on the left side LEDs

Sounds

On/Off

Enables or disables radar alert sounds

Top status LEDs

On/Off

Enables or disables radar alerts displaying on the top LEDs. On

the ROAM or ELEMNT, this option is only available when on-screen mode is enabled for car representation.