Remove your existing quick release skewer from the rear wheel of the bicycle and install the quick release skewer included with the KICKR SNAP. The quick release skewer lever should be installed on the non-drive side of the bicycle.
Inflate the bicycle's rear tire to the manufacturer's recommended tire pressure. (1)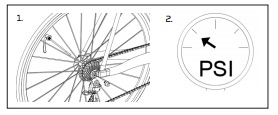 CAUTION: Failure to use the included quick release skewer may result in damage and injury.
(1) Begin by loosening the roller to provide space to allow proper alignment of the KICKR SNAP's clamping mechanism with the bicycle's quick release skewer. In addition, open the blue handle to open the clamping mechanism.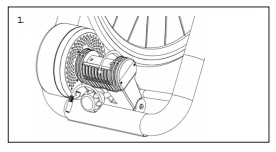 (2) Place your bike between the KICKR SNAP's clamping mechanism and align the non-drive side quick release skewer lever with the KICKR SNAP's non-drive side clamp.
(3) Close the KICKR SNAP's clamping mechanism by pulling the blue clamp lock handle down. The clamping mechanism should fully engage the end of the skewer when the blue clamp handle is located at approximately the 4 o'clock position. The bicycle should be secured in the clamp and the bicycle's tire is centered on the roller.
(4) If the blue clamp handle feels too difficult to close, adjust the non-drive side screw away from the bike and try again. If upon closing the blue clamp handle, the bicycle is not clamped securely, adjust the non-drive side clamp towards the bike and try again. Once the bicycle is properly secured, adjust the non-drive side lock ring to lock the bicycle in the trainer clamp. CAUTION: Do not over-tighten to prevent damage.
(5) Tighten the roller against the bicycle's tire to prevent tire slip. To set the correct roller tension against the tire, use your hand to hold the flywheel stationary and attempt to rotate the bicycle wheel with your other hand. The correct tension is set when the bicycle tire does not slide or slip. The tire should not slip during use. If you experience slip during use, increase the tension on the tire.  Correct roller tension is approximately two full turns of the blue tightening handle.