Workout profiles are found in the fourth section of the Settings page. The app comes with 11 common workout profiles pre-loaded.
Delete a workout profile 
You can remove a workout profile from the quick access list by selecting the Edit button in the top right corner and then the trash can icon next to the workout profile you wish to remove. You can always re-add it later.  You can delete all workout profiles other than the General Workout profile.
Add a workout profile
You can add a workout profile by selecting the Add a workout profile button and then either Copy an existing workout profile from the quick access list, (which will copy all of the settings from that existing profile), or add a New profile from the extended list of 48 templates.
Edit a workout profile
Each workout profile comes with a preset configuration of settings based on the type of activity. If the workout profile is based on an outdoor activity, you can enable/disable the phone's GPS. Please note, disabling GPS will prevent the app from recording your progress on a map.
You can also toggle auto pause, auto lap, and a start countdown on and off. You can set auto lap to distance or time to the nearest whole integer in your preferred unit of measure (1 mile, kilometer, or minute). The countdown can be set to between 1 and 15 seconds.
Due to certain technological limitations of mobile phones, certain settings are not available for certain workout profiles, ex. no auto pause for Walking or auto lap for Lap swimming.
You can also Duplicate a workout profile from the Edit page.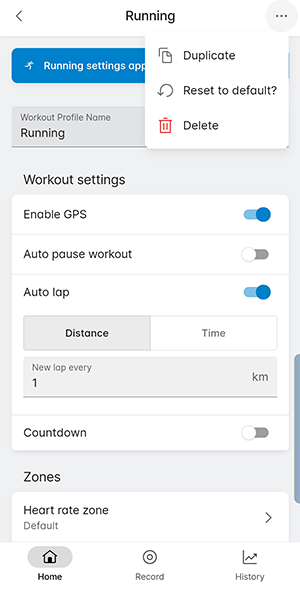 Create a 'bike profile' (or other case-specific workout profile)
Only one sensor of a given type (speed, cadence, HR) can be selected as the data source for a given workout profile at any given time.  If you have multiple bikes, and want to avoid having to de-select and re-select the 'right' sensor set for each bike, the easiest solution is to create duplicate workout profiles (see above) and rename them for the bike you want to use. You can then pair the sensors for that bike and select those sensors for that profile. Then, you only have to wake up those sensors (install your heart rate monitor, rotate your crank, spin your front wheel, etc) and select the correct 'bike profile' before riding.