LEDs
KICKR BIKE SHIFT has two LEDs to indicate its power and connection status found on the left (non-drive) side of the head control unit (HCU) mounted under the stem.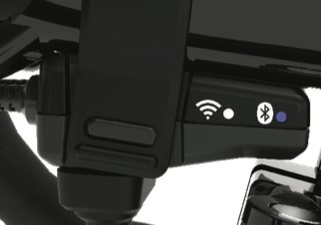 White Wi-Fi LED
Slow blink - searching for networks
Fast blink - connecting to a network
Solid - connected to network
Blue Bluetooth® Low Energy (LE) LED
Slow blink - standby mode
Solid - application connected
Solid + Fast blink - control commands
Blue and White LED OFF - Sleep mode (after 15min) or power disconnected.
Connections
In addition to disconnecting the power adapter at the back of the KICKR BIKE SHIFT, disconnecting the magnetic pod connecting the head control unit (HCU) from the rest of the bike will result in loss of function to the shifter AND the loss of connection to any paired apps/devices. Upon reconnection of the pod, the KICKR BIKE SHIFT's re-connection to the controlling app or device is dependent on that app/device's protocol, which may not be automatic.