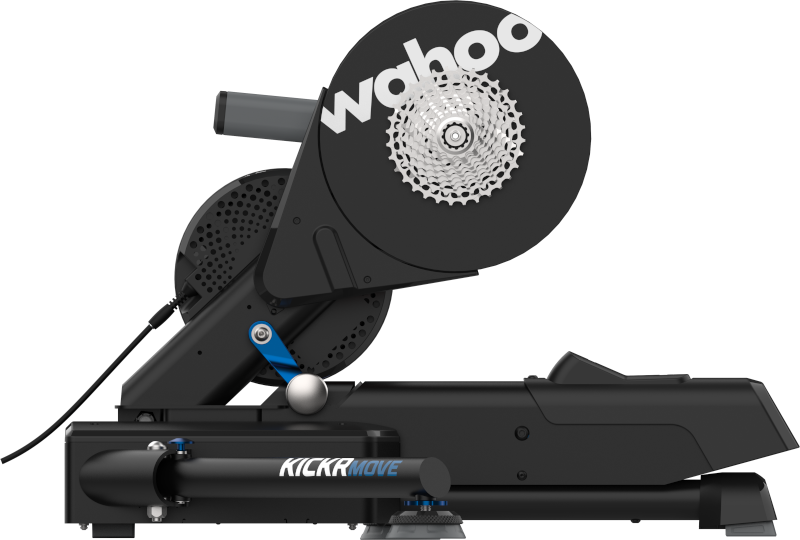 Product Information
APPLE iOS

The Wahoo KICKR is designed to work with the Wahoo Fitness app which supports devices running iOS 15 and later.




ANDROID

The Wahoo KICKR is designed to work with the Wahoo Fitness app which supports most Bluetooth® compliant Android devices running Android version 11 and later.

Note: Since Android devices vary widely, compatibility cannot be assured for all devices. Please download and install the Wahoo Fitness Android app from the Google Play Store before purchasing a Wahoo Fitness product to ensure compatibility.




WINDOWS / MAC

The Wahoo KICKR supports various Windows and Mac applications with Bluetooth and/or ANT+ capabilities.

Note: the Wahoo Fitness app (required for important firmware updates) is only available on iOS and Android mobile devices.




3RD PARTY APPLICATIONS

The Wahoo KICKR is compatible with many 3rd party iOS, Android, Windows and Mac apps. For a list of confirmed compatible 3rd party apps, see the chart at the end of this guide.

Wahoo has designed the KICKR MOVE to be compatible with the majority of performance bicycles. Because of the wide variety of bicycle makes and models, it is not possible for Wahoo to guarantee the KICKR's compatibility with all bicycles matching these parameters. Please review our Bicycle Frame Compatibility article to confirm that your bike is conceptually compatible. To fully ensure compatibility, we recommend visiting a local Wahoo retailer to test your bicycle's fit before purchasing.

Wahoo has designed the KICKR MOVE to be compatible with the majority of performance bicycles. Because of the wide variety of bicycle makes and models, it is not possible for Wahoo to guarantee the KICKR's compatibility with all drivetrains on the market. Please review our Drivetrain Compatibility article to confirm that your bike is conceptually compatible with the stock assembly or determine if any other parts or accessories (like freehub bodies for SRAM XDR or Campagnolo drivetrains) need to be purchased to make it compatible.

Part Number: WFKICKR123
Shipping Dimensions: 29.7x16.7x21.3 in // 75.4x42.4x54.1 cm
Weight: 64 lbs // 29 kg
Drivetrain: Belt Drive
KICKR HEADWIND Compatible: Yes
Resistance Type: ELectromagnetic Brake
Accuracy: + / - 1%
Flywheel Weight: 16 lb // 7.3 kg
Max Simulated Grade: +20%
Min Simulated Grade: -10% (-8% w/ CLIMB)
Connectivity: Bluetooth®, Wi-Fi, ANT+, ANT+ FEC
Wireless Software Updates: Yes
Compatible Devices: iOS, Android, PC (Mac and Windows)
Max User Weight: 250 lbs // 113 kg
Power Requirements: 100-240V, 50/60 Hz, 2.5A Max
Rear wheel sizes supported: 700c Road / 605b (27.5") MTB / 29" MTB
Hub Types: 130/135mm QR and 12x142/12x148 Thru Axle
Cassette: included, 11 speed, 11-28t

| | |
| --- | --- |
| 1. KICKR MOVE | 7. Adapter B - Reversible hub spacer for 130mm and 135mm Quick Release |
| 1a. KICKR MOVE Lock Lever | 8. Adapter C – For 12x142 and 12x148 Thru Axle |
| 2. AC Power Adapter | 9. Adapter D - 12x142 Thru Axle |
| 3. Quick Release Skewer | 10. Adapter E - 12x148 Thru Axle |
| 4. Disc Brake Spacer | 11a. Axis Feet - Small |
| 5. 1.8mm Spacer | 11b. Axis Feet - Medium *Pre-installed |
| 6. Adapter A – For 130mm and 135mm Quick Release | 11c. Axis Feet - Large |

GENERAL SAFETY INFORMATION

Improper or excessive exercise can result in serious injury.  Always consult your physician before beginning or modifying any exercise program.
Contact with the moving parts of the KICKR BIKE SHIFT could result in serious injury.

Do not put hands or objects near moving parts of the KICKR MOVE.
Keep children and pets away from the KICKR MOVE.
Do not wear loose clothing or shoes with loose laces that could result in unintended contact with moving parts.

Do not exceed the maximum rider weight of 250lbs.(113.5KG).
Instability of the MOVE could result in serious injury. Only use the KICKR MOVE on stable, level surfaces.
The KICKR MOVE is intended for indoor use only.Do not store outdoors or near water.
The KICKR MOVE may become hot to the touch when used for extended periods of time. Allow components to cool before touching.
To avoid risk of fire or electric shock, only use the included power adapter with the KICKR MOVE.
During your peak training season,keep the KICKR MOVE plugged in for automatic updates via Wi-Fi. Unplug your KICKR MOVE prior to cleaning and maintenance or if left unused for extended periods of time.
Device alterations,improper and/or incomplete use, assembly or operation can result in serious injury.
Keep the KICKR MOVE in the locked position when not in use.
If you use the KICKR CLIMB and KICKR MOVE together, you must use the KICKR CLIMB base adapter to avoid damage to the KICKR CLIMB while in use.
To avoid damage to your bike or accessories, do not put anything under your front wheel, or attach your fork to any other climbing or steering accessory while using the KICKR MOVE.
Quick Start Guide
Setup
Prior to setting up your KICKR MOVE, ensure the lock lever is securely locked to avoid risk of injury.

Place your KICKR MOVE on a stable, level surface and open the legs by (1) pressing down on the blue leg-lock tabs and (2) pivoting the legs outward until they snap in place.
(NOTE: Ensure the leg-lock tabs have popped back up and secured the legs in an open position.)

Pinch Point Hazard. To prevent serious injury:
ALWAYS keep your hand away from moving parts.
NEVER reach into KICKR MOVE.
ALWAYS lock KICKR MOVE when not in use.

(3) Use the included AC power adapter to connect the trainer to a standard wall outlet.
To stabilize the trainer, adjust the two leveling feet (4a) by twisting them left or right until the trainer is level and (4b) lock them into place by tightening the blue locknuts against the KICKR MOVE leg frame.

Check that your trainer is stable before every ride; if needed re-adjust the leveling feet.

Adjust the height of the trainer to fit your specific wheel size by (5) relocating the height adjustment knob on the center leg to the appropriate setting. If you are unsure of your wheel size, check the tire sidewall or consult your local bike shop.

For 130mm OR 135mm Quick Release

Adapters Needed: A and B

KICKR MOVE comes pre-configured out of the box for bicycles with 130mm quick release spacing. If you have a bicycle with 130mm spacing proceed to "Attaching your Bicycle". For 135mm spacing, remove quick release skewer, reverse Adapter B and reinstall quick release skewer.

For 142mm or 148mm Thru Axle

Adapters Needed: C and D or E

To be used with the 12mm thru axle supplied with bicycle.

Attaching Your Bicycle

Prior to attaching your bicycle, ensure the lock lever is securely locked to avoid risk of injury.

Shift your bicycle chain into the smallest sprocket in the front and rear, then remove your rear wheel. Install your bicycle on the KICKR MOVE by aligning the chain with the smallest sprocket on the KICKR MOVE and pressing down to fully seat the dropouts on the KICKR MOVE's axle.

For bicycles with quick release - Secure your bicycle by tightening the quick release acorn nut and clamping the quick release lever shut. The quick release lever is "open" when it curves away from the bicycle frame (1); the lever is "closed" when it curves towards the bicycle frame (2). The handle of the quick release skewer is always on the non-drive (non cassette) side of the KICKR MOVE. Only use the provided quick release skewer while using the KICKR MOVE.

For bicycles with thru axle - Secure your bicycle by reinstalling your bicycle's thru axle (3) and tightening to manufacturer specifications (4).

AXIS Feet Adjustment

KICKR MOVE's integrated AXIS feet let cyclists of all types customize ride feel to match their unique riding style, enhance feedback and offer a more realistic training experience.

Step 1: Unthread "outrigger" feet
Step 2: Remove top cap (part between blue locknut and base of the foot)
Step 3: Install desired top cap

| | |
| --- | --- |
| 0-140 lbs (0 – 63 kg) | Use smallest diameter cap |
| 141-180 lbs (63 – 81 kg) | Use middle cap (installed by default) |
| 181 lbs + (81kg +) | Use largest diameter cap |

Failure to select the appropriate top cap for your weight may result in property damage or personal injury. Do NOT ride the KICKR MOVE until the appropriate top cap is installed.

Due to the KICKR MOVE's track system and additional side-to-side movement provided by the AXIS feet, some riders' position or riding style may cause them to lean slightly to the left or right while at rest when the trainer base is leveled to the floor. If you are one of these riders, you may want to adjust the leveling feet to counter this and center yourself on the MOVE in a more natural position.

1. Start by leveling the KICKR MOVE's base relative to the floor by loosening the blue locknut of the AXIS foot on a side stabilizer leg and then threading the foot out/in to raise or lower that side before tightening the locknut to lock the AXIS foot height.

2. If necessary, place a bubble level on the rear of the base.

3. Install your bike and mount it, checking the feel in the hoods, drops and seated straight up with hands off of the bars.

4. If you feel a persistent lean to either side, further adjust the height of one or both AXIS feet to counter that slight lean.

Download the Wahoo App for free from the Apple App Store or from the Android Google Play Store. Use this app to complete your device registration, complete your profile, perform necessary firmware updates, and pair your sensors. Pairing help can be found here.

Start A Workout

From the workout screen select the green "start" button to begin the workout. Swipe right to view the KICKR MOVE page. This page enables you to view your workout and control the KICKR MOVE.

KICKR MOVE Workout Modes

The Wahoo Fitness App has the following workout modes that you can use to control your KICKR MOVE:

| | | | |
| --- | --- | --- | --- |
| LEVEL: Just like riding on a fluid or wind trainer, the faster you go, the harder it gets. The level you select determines the progression of your power curve. | RESISTANCE: This allows you to set the resistance of the brake anywhere from 0 to 100%. Regardless of speed, the brake will remain set until you decide to change it. | ERG: Set your desired power, the KICKR MOVE will increase or decrease the resistance to maintain a constant power output, regardless of speed. | SIM: Enter your weight, bike type, riding position, headwind, and grade and the KICKR MOVE will accurately model the power curve just as if you were riding outdoors. |
Product Care
It is important to follow the below maintenance tips to ensure optimal performance of your KICKR MOVE

After each training session:

Use a soft cloth to wipe the KICKR BIKE SHIFT dry or remove any sweat or water.
Unplug the KICKR MOVE when stored or plug into surge protector.
Routinely check for signs of rust, corrosion, or excessive wear.