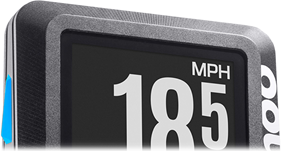 Power/Settings Button (left side button): Use to power on/off or access the Settings menu. Easily add your sensors at any time by tapping the power button and selecting the Add a Sensor.

History / page Submenu Button (bottom left button): Use to display recent workout history and weekly report. More detailed workout information is available through the ELEMNT app when you connect to WiFi. Additionally, the History button is used to stop a workout or start a new lap during your ride.
Start / Select Button (bottom center button): Use to start/pause/resume a workout, or toggle Settings menu items on/off.
Page Change Button (bottom right button): Press the 'Page' button to switch between workout data, climbing, navigation, and lap pages.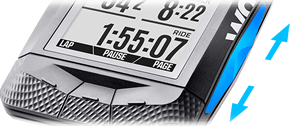 Scroll / Zoom buttons (right side up/down buttons): Use to scroll the Settings menu or quickly see more or less data by zooming in or out on any page when in a workout.